17 Palestinians kidnapped from homes in overnight Israeli campaigns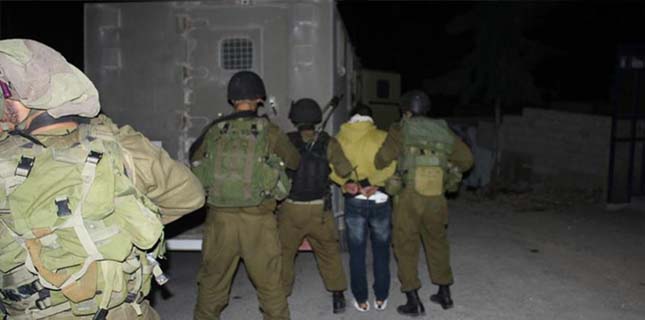 RAMALLAH, (PNIC)
17 Palestinian citizens were kidnapped before midnight and at dawn Tuesday during Israeli army and police campaigns in the occupied territories of the West Bank and Jerusalem.
According to a military communiqué, the Israeli army arrested six wanted Palestinians accused of carrying out attacks against Israelis following raids on homes in different West Bank areas.   
The six arrests took place in Jenin city, Yatta town in al-Khalil as well as in Jalazoun refugee camp and Budrus town in Ramallah.
For their part, the Israeli police said they arrested nine Palestinian young men and teenagers during campaigns in the Jerusalem areas of Shuafat refugee camp, Issawiya and Ras al-Amud as well as in Aida camp near Bethlehem.
In addition, two other young men were taken prisoners during dawn raids on their homes in Beit Ummar town, north of al-Khalil, and al-Ram town, north of Jerusalem, according to Quds Press.
PCHR report: Nine Palestinians killed during last week alone
GAZA (PNIC):-The Palestinian Center for Human Rights (PCHR) based in Gaza in its weekly report said Israeli violations of international law and international humanitarian law in the oPt continued during the reporting period (27 September – 03 October 2018). (more…)
Report: Wide cooperation between Israeli judicial system and Banks in favor of settlements
By: Madeeha Araj
The National Bureau for Defending the Land and Resisting Settlement said that the Israeli army and its affiliated organs are not only involved in the crime of forging the Palestinian documents which prove their ownership of the land, but also confiscate and (more…)
PCBS: 5% of Palestinian population are elderly
BETHLEHEM (PNIC):-On the occasion of the World Elderly day, the Palestinian Central Bureau of Statistics (PCBS) released a report, on Sunday, that the Palestinian society is considered a young society, where the percentage of young people is high and the percentage of the elderly is relatively low. (more…)