180 million Pakistanis are with Palestinians and will continue the struggle till Palestine's independence and Israel's destruction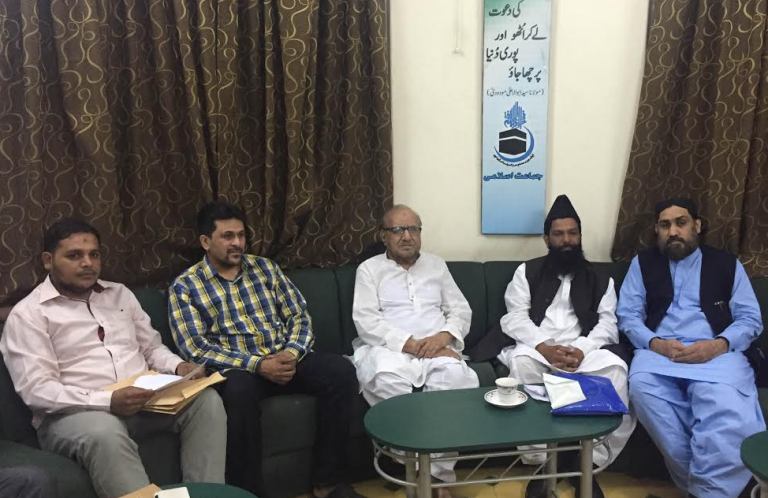 (PNIC) – Muzaffar Hashmi, Allama Qazi Ahmed Noorani, Molana Baqar Zaidi, Azhar Ali Hamdani, Mehfooz Yar Khan, Zahida Bhand and Sabir Abu Maryam expressed their thoughts
Karachi: 180 million Pakistanis are with Palestinians and will continue the struggle till Palestine's independence and Israel's destruction. These thoughts were expressed by the members of central administrative committee of Palestine Foundation Pakistan, including former member of National Assembly and leader of Jamat e Islami Muzaffar Ahmed Hashmi, central leader of Jamiat e Ulema e Pakistan Allama Qazi Ahmed Noorani Siddiqui, MWM Pakistan's central leader Molana Baqar Zaidi, spokesperson of Minister for religious affairs Peerzada Azhar Ali Hamdani, MQM Pakistan's Mehfooz Yar Khan Advocate, President of women wing of PML-N Zahida Bhand and central secretary general of Palestine Foundation Pakistan Sabir Aby Maraym during a joint meeting.
Leaders were of the view that oppressive Zionist state Israel is not only a threat for Palestine rather has become a threat for the peace of entire Middle East and the world, at large. They also declared more than 400 nuclear bombs in Israel's possession as a serious threat to the world peace and appealed to international organizations to take practical measures to end the Zionist threat for the sake of humanity and world peace.
Leaders also condemned Maliha Lodhi's recent statement in the UN in support of Israel's establishment and demanded the PM of Pakistan to remove Maliha Lodhi from the position of Pakistan's permanent representative to the UN and to issue the government's stance on Palestine issue. .
Leaders of Palestine Foundation Pakistan also discussed programs that are to take place in the month of May with regard to 'Youm e Nakba' (Zionist occupation of Palestine) and reiterated the determination to continue supporting Palestinians both politically and morally.
Pakistani journalists stand against normalisation of Arab-Israel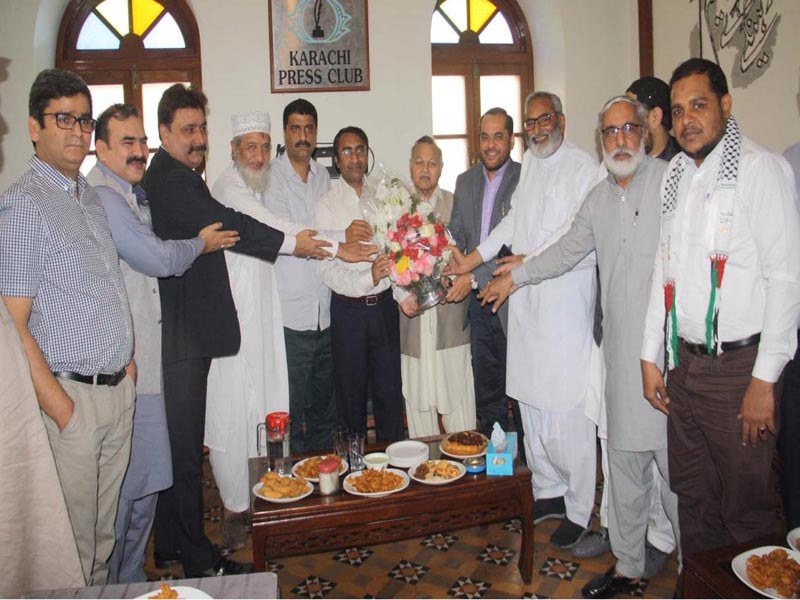 KARACHI (PNIC): Pakistani Journalists community categorically condemn normalisation of Arab-Israel and pressure on Pakistan to normalisation with Zionist's Fake regime Israel. In a meeting with Palestine Foundation Pakistan's delegation at Karachi Press Club on Wednesday Secretary of Karachi Press Club Expresses fully support and solidarity with oppressed nation of Occupied Palestine.
A delegation of Palestine Foundation Pakistan led by Guardian Council Member Former MP Muhammad Hussain Mehanti net with newly elected secretary and members of governing body of Karachi Press Club and congratulated them. Among the delegation, Muslim Parvez of Jamat-e-Islami, former MP Mahfooz Yar Khan of MQM-Pak, senior leader of Pakistan Tahreek Insaf (PTI) Israr Abbasi, additional advocate General Syed Arshad Naqvi of PPP, Pirzada Azher Ali Hamdani, Qazi Zahid Hussain of PMLN, Syed Shabbar Raza of Jafaria Alliance Pakistan, Rai Nasir Ali of NPCIH and Sabir Abu Maryam of Secretary General Palestine Foundation Pakistan were present.
Secretary of Karachi Press Club (KPC) Arman Sabir and Vice President Saeed Sarbazi expresses their views in support and solidarity with Palestine and they strongly condemn the Government foreign policy which soft corner for Zionist Israel in recent wave of normalisation.
We don't care if all world can accept Israel but we never abandon our oppressed people of Palestine and never abandon the ideology of father of the nation Muhammad Ali Jinnah who categorically rejected creation of zionst's fake regime of Israel and leave his foot prints for Pakistani nation to not recognise or normalise with Zionist's Fake regime Israel.
At this movement they announced full of their solidarity and support for all oppressed nations in the world including Palestine, Kashmir, Rohingiya and others.
During the meeting Sabir Abu Maryam briefed all of them about the creation of Palestine Foundation Pakistan and aims and objectives with ten years local and international achievements.
KPC governing body assured fully cooperation to promote and highlight the cause of Palestine in Pakistan.
Pakistan's Palestine Policy: We will never abandon Father, of Nation Jinnah's footsteps. Mamnoon Hussain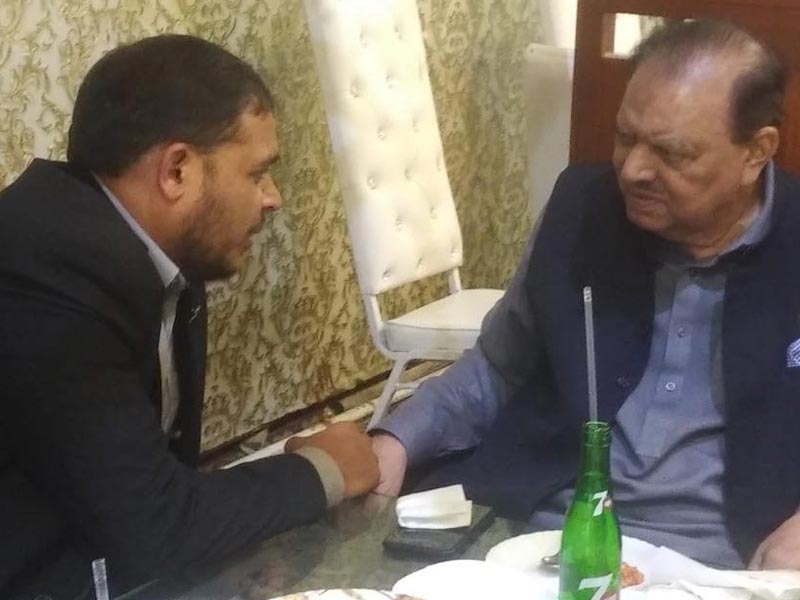 KARACHI (PNIC):-Former President of Islamic Republic of Pakistan Mr.Mamnoon Hussain says that we are bound to follow the path of great founding father of the nation Qauid e Azam Muhammad Ali Jinnah and his stance on Palestine.
Pakistan always Standing with oppressed nation of Palestine and will remain. Mamnoon Hussain says.
PLF General Secretary Mr.Sabir Abu Maryam Met with former President of Islamic Republic of Pakistan Mr.Mamnoon Hussain and discussed various things about the issue of Palestine and Pakistan's stance in it.
Former President Mr.Mamnoon Hussain expresses his fully support with oppressed people of Palestine and categorically said that that Israel is an illegitimate state and we always followed Founding Father Qauid Azam Muhammad Ali Jinnah's stance on Palestine and will never get back even an inch from that stance.
He appreciated Palestine Foundation's great struggle in Pakistan and assure his Cooperation with PLF too.
Israel is an ideological threat to Pakistan: accepting Israel equal to no question of Kashmir. Gen (r) Ghulam Mustafa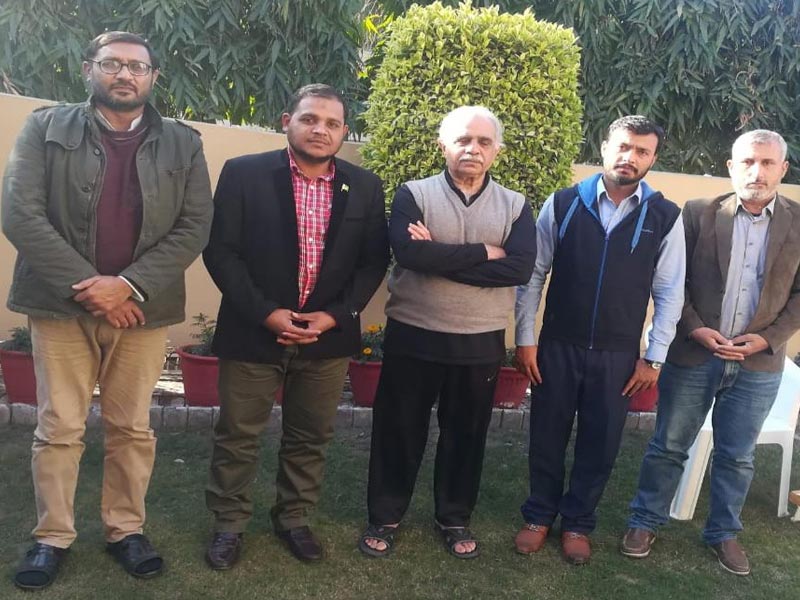 LAHORE (PNIC):-Former Army General Ghulam Mustafa expresses his fully support to Palestinian cause. According to Report during a meeting with Palestine Foundation Pakistan (PLF) delegation he said that Israel is not only threat for Palestinians but for whole region of Middle East and Golf.
Palestine Foundation Pakistan's delegation led by General Secretary Sabir Abu Maryam along with Ansar Abbas, Zahid Murtaza and Yasir Habib met with former army Gen Mr.Ghulam Mustafa at his residence on 16 December Sunday.
During the meeting PLF's Secretary General informed him various issues about Palestine and policy of Arab and Muslim regimes specially developments in Pakistan. He also discuss about some efforts of pro-Zionists factors in Pakistan to normalisation with Zionist regime and Pakistan.
A defence analyst and well known Army Gen Ghulam Mustafa categorically stated that those people are thinking that Israel is friend of Pakistan are in wrong side.
Israel is an ideological threat and enemy of Pakistan and will never benefit to Pakistan: he said.
Gen (r) Mustafa said that if Pakistan accept and protect in tel Aviv but in next step Israel never tolerate Pakistan so normalisation with Zionist regime mean no question of Kashmir.
Even if my head is cut off, I will not accept Israel: Gen (r) Ghulam Mustafa stated. He also affirmed his full support for Palestine Foundation Pakistan.