180 million Pakistanis are with Palestinians and will continue the struggle till Palestine's independence and Israel's destruction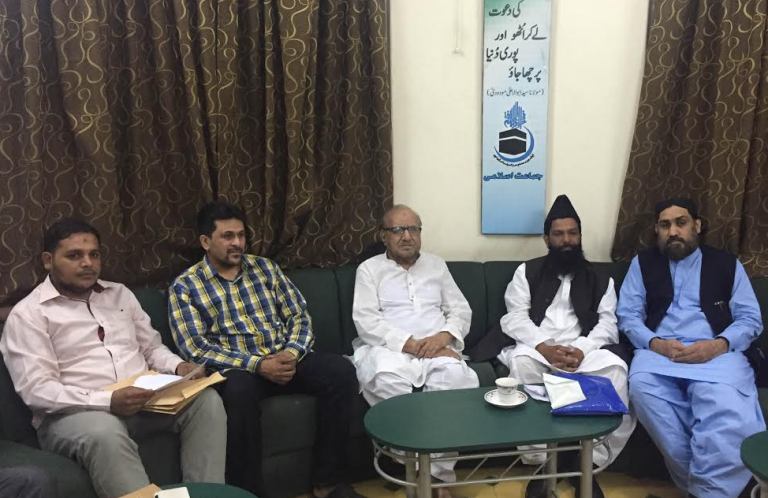 (PNIC) – Muzaffar Hashmi, Allama Qazi Ahmed Noorani, Molana Baqar Zaidi, Azhar Ali Hamdani, Mehfooz Yar Khan, Zahida Bhand and Sabir Abu Maryam expressed their thoughts
Karachi: 180 million Pakistanis are with Palestinians and will continue the struggle till Palestine's independence and Israel's destruction. These thoughts were expressed by the members of central administrative committee of Palestine Foundation Pakistan, including former member of National Assembly and leader of Jamat e Islami Muzaffar Ahmed Hashmi, central leader of Jamiat e Ulema e Pakistan Allama Qazi Ahmed Noorani Siddiqui, MWM Pakistan's central leader Molana Baqar Zaidi, spokesperson of Minister for religious affairs Peerzada Azhar Ali Hamdani, MQM Pakistan's Mehfooz Yar Khan Advocate, President of women wing of PML-N Zahida Bhand and central secretary general of Palestine Foundation Pakistan Sabir Aby Maraym during a joint meeting.
Leaders were of the view that oppressive Zionist state Israel is not only a threat for Palestine rather has become a threat for the peace of entire Middle East and the world, at large. They also declared more than 400 nuclear bombs in Israel's possession as a serious threat to the world peace and appealed to international organizations to take practical measures to end the Zionist threat for the sake of humanity and world peace.
Leaders also condemned Maliha Lodhi's recent statement in the UN in support of Israel's establishment and demanded the PM of Pakistan to remove Maliha Lodhi from the position of Pakistan's permanent representative to the UN and to issue the government's stance on Palestine issue. .
Leaders of Palestine Foundation Pakistan also discussed programs that are to take place in the month of May with regard to 'Youm e Nakba' (Zionist occupation of Palestine) and reiterated the determination to continue supporting Palestinians both politically and morally.