4500 Jerusalemite houses threatened with demolition in Silwan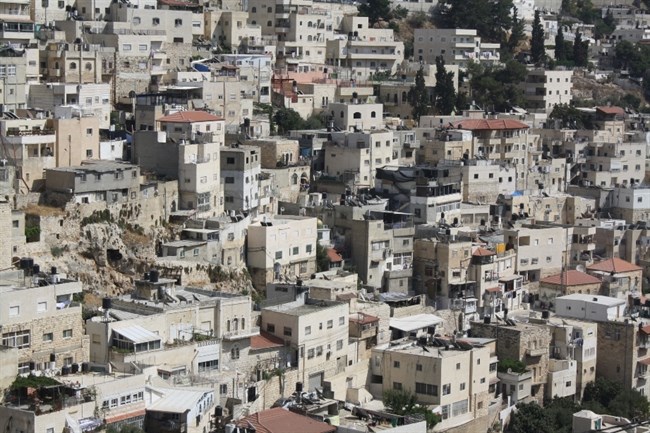 OCCUPIED JERUSALEM, (PNIC)
Israeli authorities continued their Judaization and settlement construction policies in Silwan town south of al-Aqsa Mosque in occupied Jerusalem.
Speaking to PNIC reporter, member of the Committee for the Defence of Jerusalem Properties Fakhri Abu Diab affirmed that Silwan town has been systematically targeted by Israeli authorities as it represents the key to wipe out the Islamic and Arab identity of al-Aqsa Mosque.
More than 4500 houses in Silwan town are threatened with demolition which means that 40% of its people area threatened with displacement, he pointed out.
More than 13, 5 million are yearly paid as taxes from Silwan residents, however; they were not used for the infrastructures, according to him.
Abu Diab underlined that Silwan residents suffer from economic and psychological burden due to the Israeli daily arrests and house demolition.
Earlier on Friday, dozens of Palestinians performed Friday prayers in Ein al-Louz neighborhood for the second consecutive week in protest against Israeli demolition of dozens of local houses.
PCHR report: Nine Palestinians killed during last week alone
GAZA (PNIC):-The Palestinian Center for Human Rights (PCHR) based in Gaza in its weekly report said Israeli violations of international law and international humanitarian law in the oPt continued during the reporting period (27 September – 03 October 2018). (more…)
Report: Wide cooperation between Israeli judicial system and Banks in favor of settlements
By: Madeeha Araj
The National Bureau for Defending the Land and Resisting Settlement said that the Israeli army and its affiliated organs are not only involved in the crime of forging the Palestinian documents which prove their ownership of the land, but also confiscate and (more…)
PCBS: 5% of Palestinian population are elderly
BETHLEHEM (PNIC):-On the occasion of the World Elderly day, the Palestinian Central Bureau of Statistics (PCBS) released a report, on Sunday, that the Palestinian society is considered a young society, where the percentage of young people is high and the percentage of the elderly is relatively low. (more…)