69th anniversary of Nakba: Seminar "Palestine is the homeland of Palestinians" held in Islamabad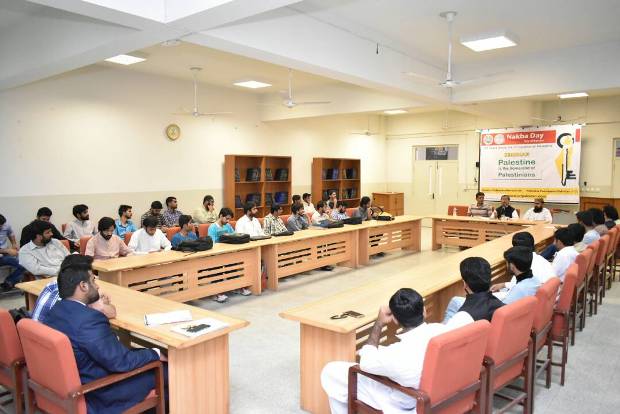 Anjuman Talba Islam (ATI) and Palestine Foundation Pakistan (PLF-P) Islamabad chapter has jointly organized a seminar in the International Islamic University of Islamabad – Pakistan on Wednesday May 24.
A large number of studnets from the university were present in the seminar to marking 69th anniversary of Nakba Day (Day of Catastrophe) as the day of return to Palestine.
Dr. Syed Husnain Naqvi (CS&SE), Dr.Attaullah Watto from the law department of university, Mr.Saqib Akber of Al-Baseera Institute and Syed Jawad –ul-Hassan Kazmi of Palestine Foundation Pakistan Islamabad chapter were among the speakers of Seminar.
They highlighted the crimes of fake state of Israel from 1948 to till 2017 on Palestine. they emphasized the right of return to Palestine for all Palestinians those were forcedly expelled by Zionist Israel in 1948.