9 Palestinian prisoners continue open hunger strikes in Israeli prisons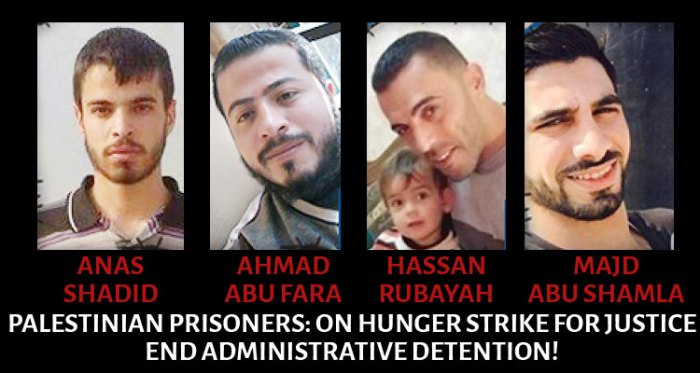 RAMALLAH (PNIC) Nine Palestinian prisoners continued their open hunger strikes in Israeli prisons on Monday,
according to Sawt al-Asra (Voice of the Prisoners) radio. Protesting for various reasons, the nine prisoners have all refused food until their demands have been met by Israeli authorities. Four of the nine hunger strikers have been protesting being held in solitary confinement, according to the radio station.Scores of Palestinian prisoners have launched hunger strikes in the past year to protest administrative detention or the conditions of their incarceration. The most prominent hunger strikers included Muhammad al-Qiq, Bilal Kayid, and Muhammad and Mahmoud Balboul. According to Addameer, 7,000 Palestinians were being held in Israeli prisons as of August. The prisoners rights group estimates that 40 percent of Palestinian men have been detained by Israel at some point in their lives.
PCHR report: Nine Palestinians killed during last week alone
GAZA (PNIC):-The Palestinian Center for Human Rights (PCHR) based in Gaza in its weekly report said Israeli violations of international law and international humanitarian law in the oPt continued during the reporting period (27 September – 03 October 2018). (more…)
Report: Wide cooperation between Israeli judicial system and Banks in favor of settlements
By: Madeeha Araj
The National Bureau for Defending the Land and Resisting Settlement said that the Israeli army and its affiliated organs are not only involved in the crime of forging the Palestinian documents which prove their ownership of the land, but also confiscate and (more…)
PCBS: 5% of Palestinian population are elderly
BETHLEHEM (PNIC):-On the occasion of the World Elderly day, the Palestinian Central Bureau of Statistics (PCBS) released a report, on Sunday, that the Palestinian society is considered a young society, where the percentage of young people is high and the percentage of the elderly is relatively low. (more…)