A Muslim is duty-bound to raise voice against Palestine, Humayun Jamshed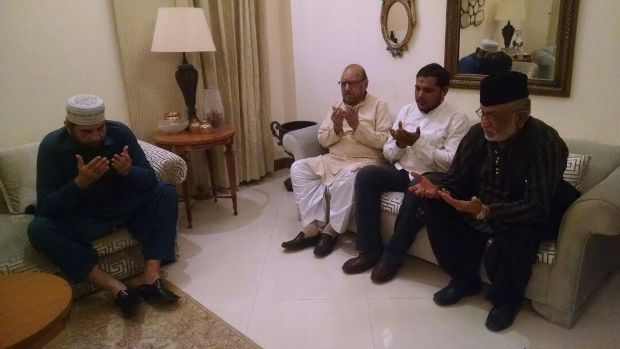 KARACHI – (PNIC) – Junaid Jamshed will be remembered forever for this services, Muzaffar Hashmi, Allama Abbas Kumaili, Abu Maryam
Delegation of Palestine Foundation Pakistan met family of late Junaid Jamshed,
prayers and salutations for the deceased at Havailian incident
Karachi: A delegation of Palestine Foundation Pakistan (PLF-P) led by former Member Sindh Assembly and Leader Jamaat-e-Islami (JI) Muzaffar Ahmed Hashmi, Jafria Alliance Pakistan (JAP) leader Senator Allama Abbas Kumaili and PLF-P's central secretary general Abu Maryam, met the family of renowned religious scholar Junaid Jamshed, paying respect to him and the others killed in the incident of Havailian's plane crash.
During the meeting all members of PLF-P praised late Junaid Jamshed's efforts and services commenting to remember him for the days to come. PLF-P central secretary general Abu Maryam took this opportunity to give out an elaborate narrative of their foundation and their decades work regarding the Palestinian cause.
Late Scholar's brother Humayun Jamshed pledged to the cause exclaiming the atrocities faced by Palestinians at the hands of Zionist Regime. He suggested that a muslim is duty-bound by religion to help the subjugated nation of Palestine.
He took to the cause and assured the delegation of being a party to not only the cause of Palestine but Kashmir in the near future.
They offered prayers and salutations to the deceased asking for solace for the afflicted families.