AGPS: 24 Palestinian refugees killed in Syrian warfare in October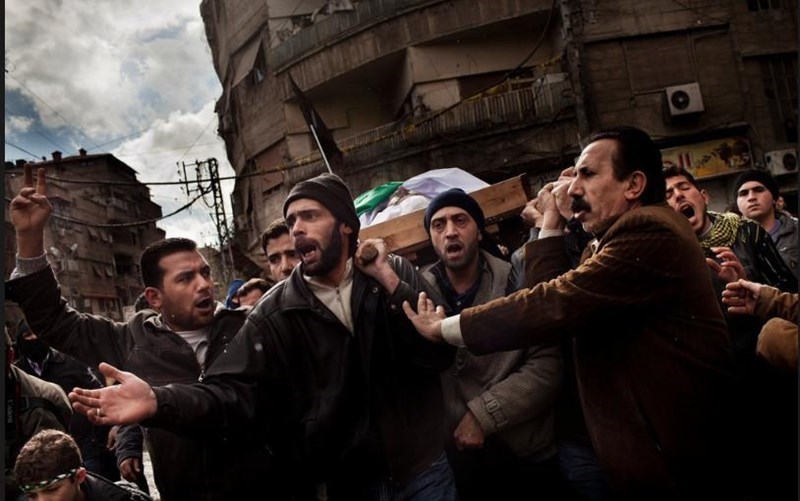 DAMASCUS, (PNIC)
The Action Group for Palestinians of Syria (AGPS) documented the death of 24 Palestinian refugees in beleaguered Syria in October 2016.
AGPS said ten Palestinians were killed by shelling while eight refugees were shot dead by gunfire. Another refugee was tortured to death in Syrian regime lock-ups. Two Palestinians were, meanwhile, gunned down by snipers in ongoing hostilities.
The blockade and lack of medical care took away the life of one refugee. Another Palestinian was killed after he was kidnapped. A refugee died of unknown reasons.
As for the geographical distribution of the casualties, Damascus Reef (countryside) topped the list with 13 victims, followed by four in Aleppo, two in Damascus, two in Deraa, one refugee in Beirut, and two others in unknown areas.
The number of Palestinian refugees killed since the outburst of Syrian warfare has gone up to 3,381 refugees, according to AGPS data set.
PCHR report: Nine Palestinians killed during last week alone
GAZA (PNIC):-The Palestinian Center for Human Rights (PCHR) based in Gaza in its weekly report said Israeli violations of international law and international humanitarian law in the oPt continued during the reporting period (27 September – 03 October 2018). (more…)
Report: Wide cooperation between Israeli judicial system and Banks in favor of settlements
By: Madeeha Araj
The National Bureau for Defending the Land and Resisting Settlement said that the Israeli army and its affiliated organs are not only involved in the crime of forging the Palestinian documents which prove their ownership of the land, but also confiscate and (more…)
PCBS: 5% of Palestinian population are elderly
BETHLEHEM (PNIC):-On the occasion of the World Elderly day, the Palestinian Central Bureau of Statistics (PCBS) released a report, on Sunday, that the Palestinian society is considered a young society, where the percentage of young people is high and the percentage of the elderly is relatively low. (more…)