Al-Quds – Capital of Palestine: PLF-P lays out Pictorial Exhibition at Million March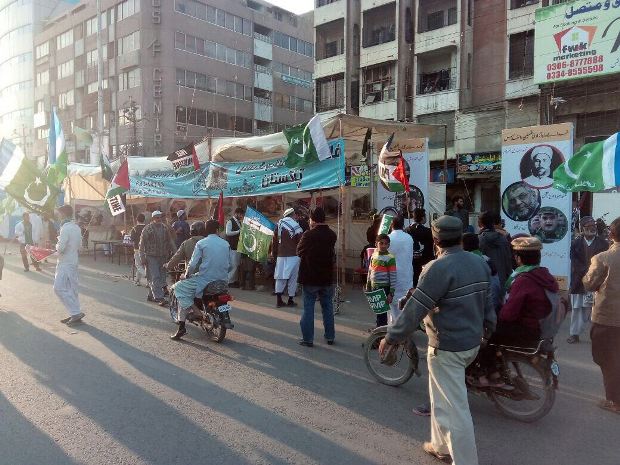 KARACHI (PNIC)
:- Palestine Foundation Pakistan (PLF-P) had a pictorial exhibition during the Al-Quds Million March rally held on March 17 at Hassan Square Karachi.
Jamaat -e Islami (JI) called in for a million march in solidarity with the oppressed people of Palestine and latest lambaste of Donald Trump, to emphasize "Al-Quds as the capital of Palestine".
PLF-P actively participated in the rally and held a pictorial exhibition to highlight the atrocities at the hands of the Zionist regime – Israel on the innocent Palestinians. They exhibit pictures par the rally's slogan with Al-Quds as the capital of Palestine in the limelight of history.
Many a religio-political parties, social activists and students participated in the rally and were in attendance of the exhibition. They all appreciated the efforts put in by PLF-P and vowed to support their cause in favor of Palestinian people.
Masses in attendance paid their respects to the exhibition revealing the struggle of esteemed martyred freedom fighters namely Sheikh Ahmed Yaseen, Amaad Mughnia, Azaldin al Qasim, Abdul Aziz Natisi, Fathi Shiqaqi, Sameer Qintar, Ashraqt Qantani etc.
It is pertinent to note here that PLF-P in Pakistan has been the sole voice of Palestinians in the country for over a decade, enlightening the people of Pakistan with the mayhem the illicit regime of Israel has created in the holy land of Palestine.