Al-Quds Conference held in Karachi, political and religious leadership vows their support to Palestine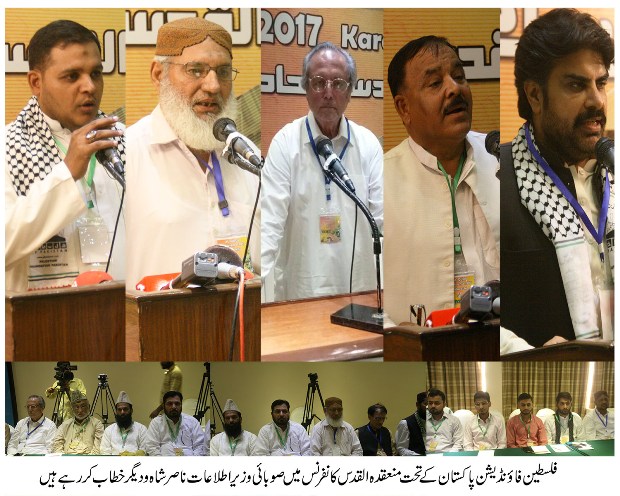 Karachi (PNIC):-Terrorism prevails in the world with powers uniting to put behind the crisis in Palestine, protecting the interests of Zionist Israel.
Muslims should pivot their struggle in freeing Qibla-e-Awal (QUDS), Pakistan stands with Palestine.
An appeal to celebrate Al-Quds on the last friday of the month of Ramazan, Demand put forth to commemorate Al-Quds Day on Governmental Level.
Palestine Foundation Pakistan held Al-Quds Conference
with Information Minister Sindh Nasir Hussain Shah, MPA of MQM Pakistan Qamar Abbas, Justice ® Wajeeh uddin, Asadullah Bhutto, Senator Allama Abbas Kumaili, Aslam Ghori of JUIF, Azhar Hamdani of PMLN, Qazi Ahmed Noorani of JUP, Molana Baqir Zaidi of MWM, Younis Bouneri of ANP, Former advisors of GOvernment of Pakistan Nusrat Mirza & Dr Alia Imam, Faheem Sheikh of PST, Father Riaz Masih of Church of Pakistan, Matloob Awan of APST, Naeem Qureshi, Khalid Nawaz Marwat of KBA, Karamat Ali of PILER, Shabbar RAza, Haris Mithani, Dr Talat Wazarat, Faisal Sheikh of PPP, Sabir Abu Maryam and other dignitaries present addressing the conference.
Karachi () Palestine Foundation Pakistan (PLF-P) organized Al-Quds Conference today (Monday) here at Mehran Hotel with high profile dignitaries, politico-religious organization, NGOs and civil society in presence.
Information Minister Syed Nasir Shah, while addressed the conference, alleged world powers of spreading terrorism, maligning the true cause of Palestine, safeguarding the interest of the Zionist State (Israel).
He suggested that they themselves are involved in the heinous crimes while professing terrorism on muslims just in order to uphold the true aggressor (Israel).
The crisis in Palestine is not an issue to be pursued by muslims only, humanity has failed in that regard, he said.
He iterated that the only resolve to this issue and freedom of Al-Quds (Qibla-awal) is through Muslim Unity, one should forget peace in the middle east if this matter is not resolved.
He condemned the atrocities of Israel on the innocent subjugated muslims of Palestine.
The conference held at Karachi brought high profile dignitaries to the floor with condemnation of Israel for its crimes and terrorism not only within the state of Palestine but through-out the middle east.
During the conference other than the Information Minister Nasir Hussain Shah, Nusrat Sehar Abbasi, Qamar Abbas, Khurram Shair Zaman, Senator Taj Haider, Justice (r) Wajeeh uddin, Haji Hanif Tayyeb, Asadullah Bhutto, Allama Abbas Kumaili, Firdous Shamim, Aslam Ghori, Azhar Hamdani, Qazi Ahmed Noorani, Baqir Zaidi, Younis Bouneri, Nusrat Mirza, Dr Alia Imam, Shahid Ghori, Bishop Sadiq, Ramesh Singh, Matloob Awan, Naeem Qureshi, Karamat Ali, Shabbar RAza, Haris Mithani, Dr Talat Wazarat, Alamgir Khan, Sabir Abu Maryam and other present voiced against the violence spread by the zionist regime but as well endorsed their support for the Palestinian nation. They urged the government to ensure Al-quds as a 'national day' celebrated on the last friday in the month of ramazan.
They urged the government to show some courage and in solidarity with the oppressed Palestinian brethren, not to partake a role in the current turmoil spread in the middle-east by the US. The US has been the key to terrorism in the region and Pakistan should not be a party to it.