Al-Quds Day observed across Pakistan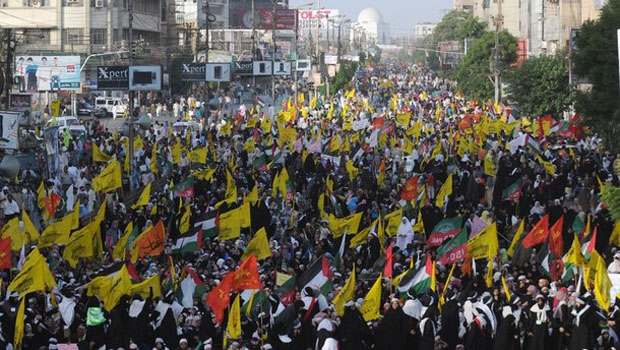 KARACHI (PNIC)
:-Friday observed Youm-ul-Quds in Karachi to show solidarity with the Palestinians and to seek liberation of Masjid-e-Aqsa.
PLF-P, ISO, JSO and other religious groups took protest rallies and gatherings in different parts of the city against continuing oppression of Palestinian citizens. The rallies were participated by citizens belonging to different walks of life. The protesters were chanting slogans against Israel and the US holding placards and banners inscribed with slogans in solidarity of Palestine. The protesters condemned the butchering of innocent Palestinians by Israeli occupation forces. They also appealed to the international community to take notice of the Israeli barbarism.
ISLAMABAD: International day of Al-Quds was observed across Pakistan on Friday with mass rallies held to condemn Zionists' atrocities against innocent people of Palestine.
In the rallies the protesters also strongly condemned US decision to relocate its embassy from Tel Aviv to Jerusalem and recent spate of killings of Palestinians by the Zionist Regime. The late Imam Khomeini initiated the International Quds Day as an integral part of the holy fasting month of Ramazan so that Muslims would never forget their responsibility and duty towards Palestine and all oppressed people in the world. The day is held each year on the last Friday of Ramazan.
Several protest rallies were staged in different parts of Pakistan by religious parties including Islamabad, Rawalpindi, Lahore, Peshawar, Multan and Karachi, where protestors denounced the Zionist aggression against Palestine. During rallies angry protestors also torched US and Zionist regime flags and chanted slogans against them. Special prayers were offered at mosques for liberation of Palestine.
The religious scholars in their speeches on the occasion said that Bait-ul-Muqaddas is common heritage of the Muslims which has been under illegal occupation of the Zionist forces. They also condemned Zionists'€brutality against Palestinians and praised Hizbullah's struggle against the Zionist forces. The religious scholars in special meetings passed resolutions against Zionists' illegal occupation of the holy Muslim land and holy mosque, Al Quds. They said that the struggle of Muslims will continue till the abolition of the discriminatory policies towards Muslims. They demanded that Muslims of Palestine should be given equal rights.
They urged upon Muslim countries to resolve their differences through dialogue and not allow the enemy to weaken the Muslim world. Strict security measures were put in place around the rallies and mosques across Pakistan in view of the prevailing law and order situation. Special programs, seminars and conferences were also held across Pakistan to highlight the cause of Palestine.
LAHORE: Al-Quds day was also observed throughout Punjab like in other provinces of the country on Friday. Rallies, seminars, protest demonstrations and various other activities were arranged to condemn Israeli state terrorism against the people of Palestine.
Workers of political parties, religious groups and human rights organisations participated in the demonstrations. They pledged to continue raising voice for rights of oppressed Palestinians and rejecting nefarious designs of Israel and the USA against peace-loving people in various parts of the world including Palestine.
Jamaat-e-Islami, Milli Yakjehti Council, Majlise Wahdat-e-Muslimeen, Shia Ulema Council, Fiqa Jafaria Pakistan were among the organisers of the events. Prominent among those participating in the activities were include Farid Paracha, Allma Sajid Ali Naqvi, Ameer-ul-Azeem, Hafiz Kazim Raza Naqvi, Malik Shaukat Awan, Shahbaz Naqvi and Jafar Ali.
Imams and Khateeb, in their sermons, called upon the Muslim Ummah to seek help of Allah Almighty against Israelis. They urged Muslim unity and called for making joint struggle for emancipation of the world from subjugation of colonial powers and Baitul Muqaddas from the clutches of Israel.
MULTAN: Hundreds of people assembled at Clock Tower intersection in the heart of the city on Friday where they demonstrated in support of Palestinians and condemned the Israeli forces' attacks on unarmed Palestinians and the illegal occupation of Al-Quds (Jerusalem).
Led by Allama Syed Iqtidar Hussain Naqvi, a large number of people took out a rally to Ghanta Ghar Chowk where they held demonstration. The demonstrators were holding banners and flags. Women also joined the protest demonstration.
Pakistan's Palestine Policy: We will never abandon Father, of Nation Jinnah's footsteps. Mamnoon Hussain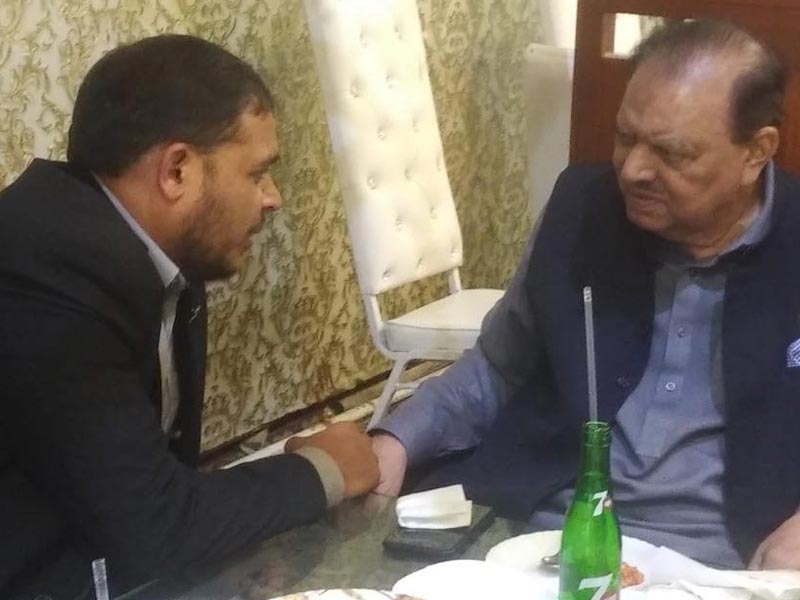 KARACHI (PNIC):-Former President of Islamic Republic of Pakistan Mr.Mamnoon Hussain says that we are bound to follow the path of great founding father of the nation Qauid e Azam Muhammad Ali Jinnah and his stance on Palestine.
Pakistan always Standing with oppressed nation of Palestine and will remain. Mamnoon Hussain says.
PLF General Secretary Mr.Sabir Abu Maryam Met with former President of Islamic Republic of Pakistan Mr.Mamnoon Hussain and discussed various things about the issue of Palestine and Pakistan's stance in it.
Former President Mr.Mamnoon Hussain expresses his fully support with oppressed people of Palestine and categorically said that that Israel is an illegitimate state and we always followed Founding Father Qauid Azam Muhammad Ali Jinnah's stance on Palestine and will never get back even an inch from that stance.
He appreciated Palestine Foundation's great struggle in Pakistan and assure his Cooperation with PLF too.
Israel is an ideological threat to Pakistan: accepting Israel equal to no question of Kashmir. Gen (r) Ghulam Mustafa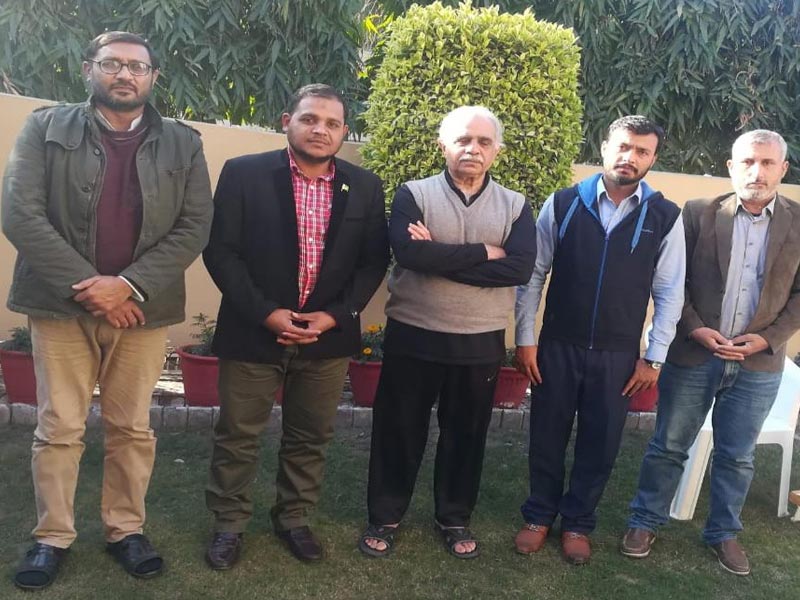 LAHORE (PNIC):-Former Army General Ghulam Mustafa expresses his fully support to Palestinian cause. According to Report during a meeting with Palestine Foundation Pakistan (PLF) delegation he said that Israel is not only threat for Palestinians but for whole region of Middle East and Golf.
Palestine Foundation Pakistan's delegation led by General Secretary Sabir Abu Maryam along with Ansar Abbas, Zahid Murtaza and Yasir Habib met with former army Gen Mr.Ghulam Mustafa at his residence on 16 December Sunday.
During the meeting PLF's Secretary General informed him various issues about Palestine and policy of Arab and Muslim regimes specially developments in Pakistan. He also discuss about some efforts of pro-Zionists factors in Pakistan to normalisation with Zionist regime and Pakistan.
A defence analyst and well known Army Gen Ghulam Mustafa categorically stated that those people are thinking that Israel is friend of Pakistan are in wrong side.
Israel is an ideological threat and enemy of Pakistan and will never benefit to Pakistan: he said.
Gen (r) Mustafa said that if Pakistan accept and protect in tel Aviv but in next step Israel never tolerate Pakistan so normalisation with Zionist regime mean no question of Kashmir.
Even if my head is cut off, I will not accept Israel: Gen (r) Ghulam Mustafa stated. He also affirmed his full support for Palestine Foundation Pakistan.
Pak-Palestine solidarity: cultural show "DABKAH" held at Centaurs Mall Islamabad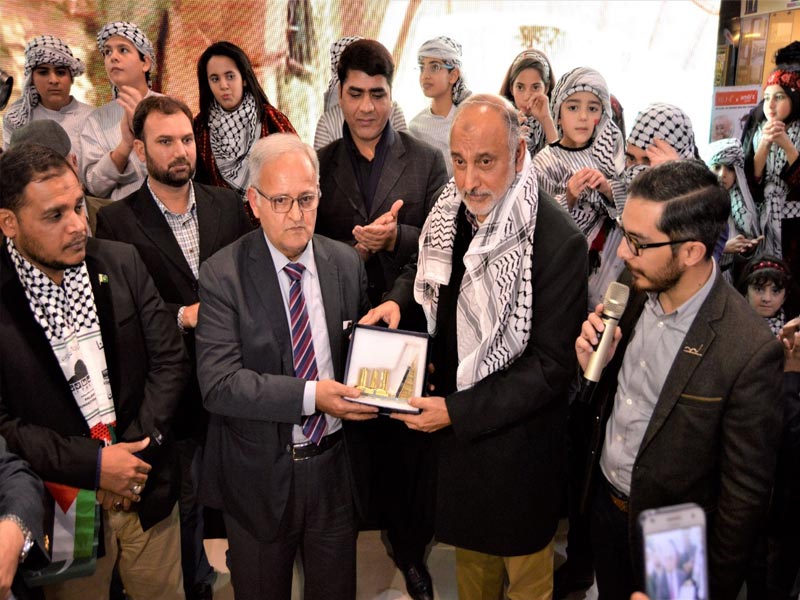 IALAMABAD (PNIC):-Palestinian citizens living in Islamabad capital of Pakistan observed International solidarity day of Palestine at Centaurs Mall Islamabad.
Palestinian cultural show Organized by Palestinian embassy with the collaboration of Centaurs Mall administration on December 15 Saturday.
Hundreds of Palestinians in Pakistan gathered along with thousands of Pakistani citizens to marked an international solidarity day of Palestine.
Palestinian children wearing Kofiya (Palestinian symbolic cloth) performed DABKAH (cultural activity) and also they sand Pakistani National songs too.
A delegation of Palestine Foundation Pakistan (PLF) led by General Secretary Sabir Abu Maryam participated as per special invitation of acting ambassador of Palestine H.E.Mr.Hussni.