All Parties Conference warn of global campaign against sacrilege of mosque and Church in Palestine, Ban on Hamas is Pro-Israeli agenda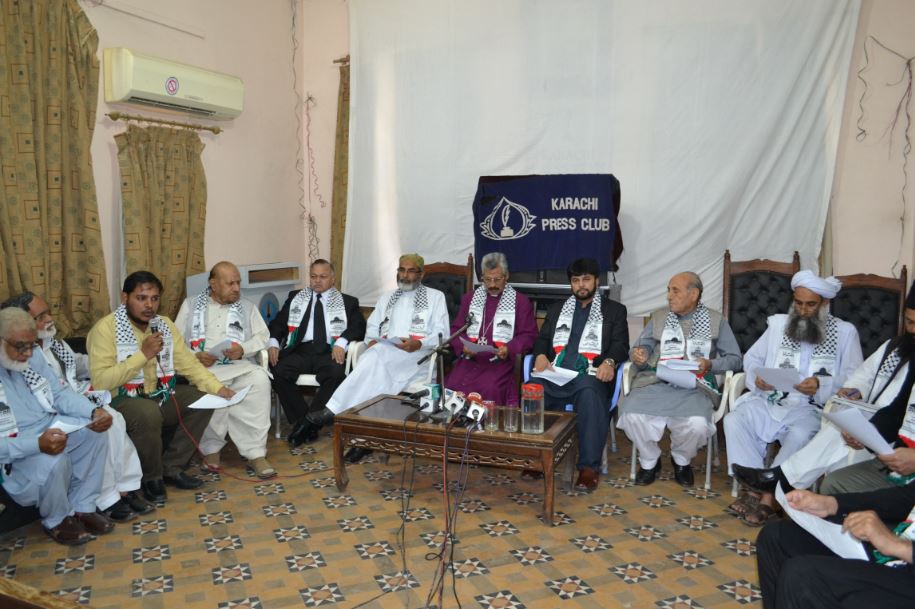 Palestine Foundation (PLF) of Pakistan has announced an All Parties Media Conference to be held on Wednesday (today) at Karachi Press Club to protest against the arsonists who set Palestinian mosque and church on fire and unjustifiable ban on Hamas branding the legitimate resistance to Zionists aggressors as terrorists.
Bishop Sadiq Daniel of Church of Pakistan, Pakistan People's Party's Rashid Rabbani, Pakistan Muslim League-Nawaz's Ismail Rahu, Senator AllamaAbbas Kumaili, PMLQ's Naeem Adil Shaikh, Pakistan Tehrik-e-Insaf's Firdous Shamim Naqvi, Jamaat-e-Islami's Hafiz Naeem ur Rehman, Majlis-e-Wahdat-e-Muslimeen's Ali Hussain Naqvi, Jafaria Alliance's Shabbar Raza,  Awami National Party's Younus Buneri, JUP's Allama Qazi Ahmed Noorani, JUI's Maulana Muhammad Abdullah, World Muslim Congress's Mir Nawaz Khan Marwat and Pakistan Awami Tehrik's Qaisar Iqbal Qadri, Azhar Hamdani, spokesman for federal minister for religious affairs, Karamat Ali of PILER and PLF's patron committee's eminent figures Muzaffar Hashmi, Mehfooz Yar Khan and the PLF's Secretary General Sabir Abu Maryam spoke at the Media Conference. PLF stands for Palestine Foundation that hosted APMC on Palestine.
The speakers at the conference said that Zionist Israeli terrorists and their fake regime occupying the sacred land of Palestine burnt Masjid al Huda and then torched a church in the same area of Bethlehem. They condemned the blasphemous graffiti against Jesus (Hazrat Essa-PBUH) on the walls of the church. They said illegitimate regime of fake state of Israel and its racists Jews always acted on the basis of racial ideology of Zionism and they had nothing to do with Judaism.  
They said that U.S.-led West is pawn in the Zionist game and Zionists and the West have launched a war on Islamic and Christian sanctities around the world and Charlie Hebdo's blasphemous caricatures and Bethlehem sacrilege proved Zionists and their allied-West were united and they masterminded the blasphemy.   
They said that some countries of Arab League and top of them now al-Sisi's Egyptian regime began victimizing legitimate Palestinians resistance Hamas at the behest of the U.S.-led Zionist ally Western countries. They said ban of Hamas on false charges of terrorism by an Egyptian court was based on pro-Israel agenda. They urged the United Nations and Arab League to chalk out a comprehensive plan with punitive measures against Zionist occupier of the sacred land.
They said that Muslims and allied Arabs wait patiently for justice to Palestinians but neither United Nations nor Arab League/OIC has so far taken a just action plan to liberate Palestine from the yoke of Zionist occupiers.
They said that sacrilege incidents in occupied Jerusalem (Beit al Maqdas) has angered and Muslim world public opinion suggest that third intifada could break out anytime due to unilateral crimes against humanity by Zionist regime and racists fanatics in occupied Palestine.
{gallery}plf_global_meeting{/gallery}