Anti India-Israel protest held in Karachi by Palestine Foundation Pakistan on Sunday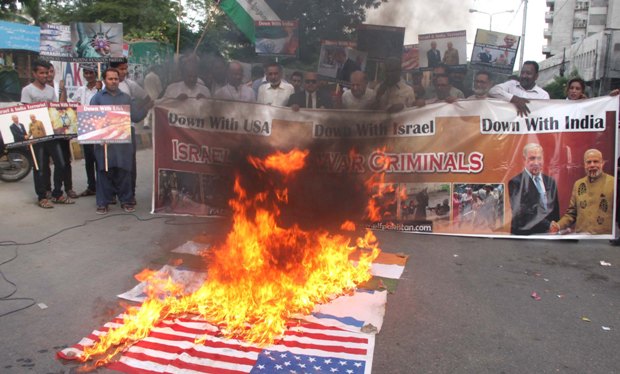 KARACHI (PNIC):-Protest demonstration held in Karachi – Pakistan to condemn the Indian-Israeli alliance and atrocities in Palestine and Kashmir by the Zionist regime Israel and terrorist state India.
Many people and civil society attended the protest and chanting slogan in solidarity with oppressed people of Palestine and Kashmir and they condemn Indian-Israeli alliance and military cooperation against Pakistan and Kashmir too.
They said, India-Israel involved to promoting terrorism and they are supporting terrorists groups in the Western Asia and Kashmir to destabilise Pakistan and other countries.
Protest organised by Palestine Foundation Pakistan (PLFP) and people from all walking or the life were present in the protest.
Among the participants and speakers including President of Palestinian Students union in Pakistan Abdul And Qadir, Former Member of Parliament Muzaffar Ahmed Hashmi of Jamat-e-Islami, Sitting Member of Provincial assembly by MQM Pakistan Mahfooz Yar Khan, Well known scholar and expert of international relations Dr Talat Wizarat, Secretary General of Palestine Foundation Pakistan Sabir Abo Mariam, Allama Aqeel Anjum Qadri of Jamiat Ulema Pakistan, Allama Mubashir Hassan of Majlis Wehdat Muslameen, Matloob Awan Qadri of All Pakistan Sunni Tahreek, Syed Shabbar Raza of Jafaria Alliance Pakistan, Shehzad Mazhar of Human Rights Network, well known social worker Imran Shehzad, Fouzia Farhan, Eshrat Ghazali of Aam Log Party, Rana Azam of Amity International, Tariq Shadab of Asian Union, Rehan Abidi of Imamia Students Organization, Rubin's Yasmin, Maaz Chishti, Waheed Younis, Dr Khalid Akhter,Shahid Khan, Rizwan Shahid, Asfandyar Khan and many other were present.