APC on "Bleeding Quds Gives Wake up Call for Muslims" demands war crimes against Israel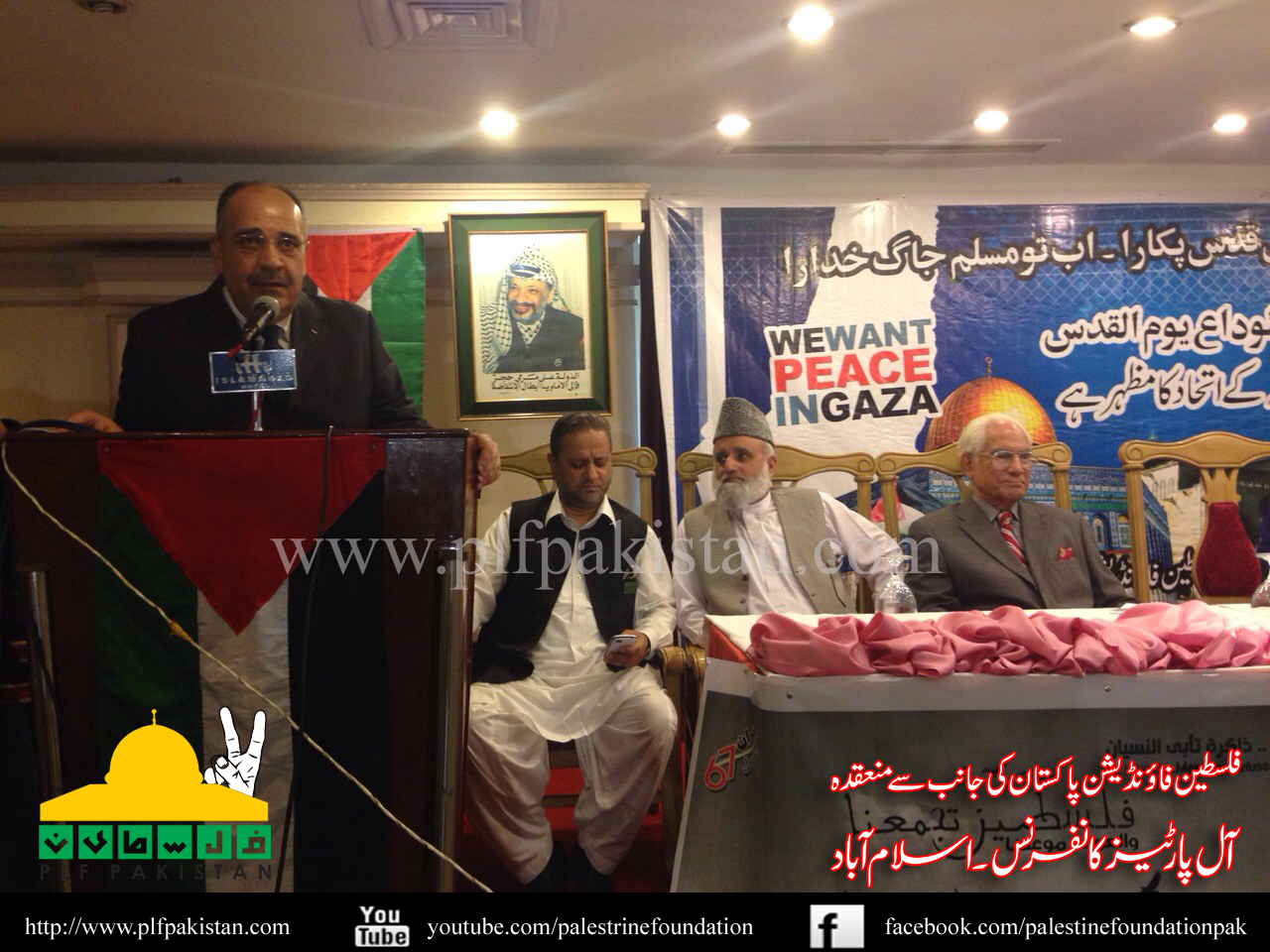 Palestinian Ambassador to Pakistan, eminent parliamentarians and politicians at an All Parties Conference on "A Clarion Call of al-Quds, O Muslim Wake up For God's sake," have demanded that illegitimate racist Zionist regime of Israel should be tried for war crimes in Gaza.
The demand was made at the APC held under the aegis of Palestine Foundation (PLF) at a hotel in Islamabad.
Abu Waleed Ali, the Palestinian ambassador, lambasted the criminal silence of the international community over the Zionist aggression on Gaza. He praised Palestine Foundation saying that youths of this Pakistani organization adopted practical measures to create awareness among masses about the Palestine issue. He also thanked Pakistani nation and government for their voice of support to the Gaza and Palestinians against Zionist war.
"Our Palestinian Authority and our al Fatah joined hands with Hamas to strengthen national reconciliation and establish a unity government but this Palestinian unity angered Zionist Israel who launched war on Gaza in reaction," he said.
Palestinian ambassador further said that Zionist Prime Minister Benjamin Netanyahu is relatively more aggressive and more inclined to terrorism as compared to the his predecessors. He said that solely Netanyahu was responsible for Gaza war. He said that Netanyahu regime was acting upon the plot of Greater Israel.
"Muslim rulers too failed. United Nations and its security council have failed to get its decisions implemented by Israel who have rejected the ceasefire and continue attacks on Gaza," he said.
Raja Zafar ul Haq, a senior parliamentarian and President of the ruling Pakistan Muslim League-Nawaz, Abdul Rasheed, chief of Jamaat-e-Islami AJK chapter, former Prime Minister of Azad Jammu and Kashmir (AJK) Sardar Ateeq, Agha Murtaza Pooya of Pakistan Awami Tehrik, Faqeer Hussain Bukhari of PMLQ, Saqib Akbar of Milli Yakjehti Council, Javad Kazmi of Sunni Ittehad Council, Allama Aijaz Behishti of Majlis-e-Wahdat-e-Muslimeen, Allama Qazi Ahmed Noorani of Jamiat Ulema-e-Pakistan, Sabir Karbalai of Palestine Foundation, President of Islamabad Press Club Mr Sheharyar, Abdul Jalil Naqshbandi, Dr Qandeel and Noor ul Mustafa Noorani spoke at the APC.
They demanded that Zionist regime of Israel should be booked for war crimes in Gaza and other occupied territories of sacred land of Palestine. They urged that Zionist regime should be tried for war crimes against defenseless Palestinians of Gaza.
They said that Israel poses serious and existential threat to world peace, entire Islamic Ummah, let alone Palestine and Palestinians. They said that more than 100,000 Palestinians have been martyred due to Zionist terrorist and army attacks in the history of occupation. He said that around 6 million Palestinians have to live as refugees because Zionist regime denied them their inalienable right to return to Palestine.
They demanded an immediate end to the war on Gaza and lift of Zionist siege over Gaza. They expressed solidarity with Palestinians. They demanded liberation of al Quds as well. They urged Pakistanis to largely participate in the international Quds Day rallies in all parts of Pakistan.
© 2014 Microsoft Terms Privacy & cookies Developers English (United States)
{gallery}apc_isl{/gallery}