Arab – Israel ties: stab in the back of Palestinians and Ummah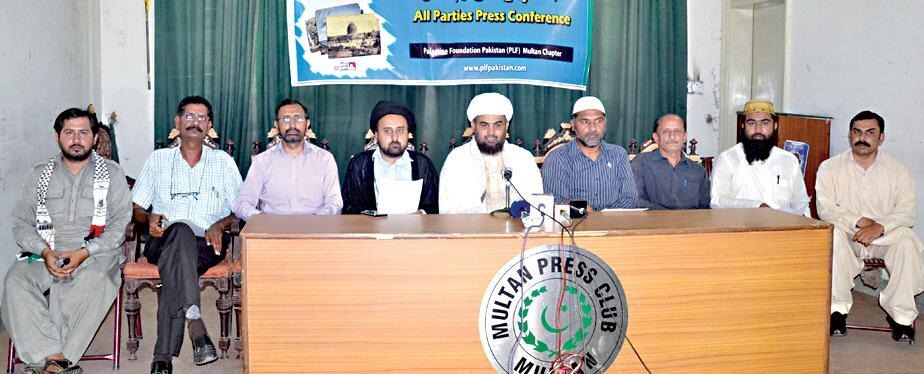 Multan (PNIC): An all parties press conference (APPC) in connection to ongoing campaign of Palestine Foundation Pakistan (PLF) in support an International Quds Day (Last Friday of Ramadan) as "O'Quds ! we are Coming" held at Multan Press Club, Punjab.
Among the political and religious leaders including Muhammad Saleem Raja of Pakistan People Party (PPP), Rao Muhammad Arif of Pakistan Awami Tahreek (PAT), Qazi Nadir Hussain of Majlis Wehdat Muslameen Pakistan (MWM), Ayaz Ali Sheikh of Mutahida Qoumi Movement Pakistan (MQM), Famous Scholar Abo Bakar Naqshbandi, Syed Mujahid Gardezi of Shia Ulema Council (SUC), Social Activist Umair Ali and PLF representatives in Multan Syed Muhammad Ali and Muhammad Saqlain were present.
They said that to continue struggle till the liberation of Quds and Palestine, they urged Government of Pakistan to announce official support for the oppressed people of Palestine and also announce International Quds Day as National Day of Pakistan.