Cairo quashes death sentence against democratically elected Morsi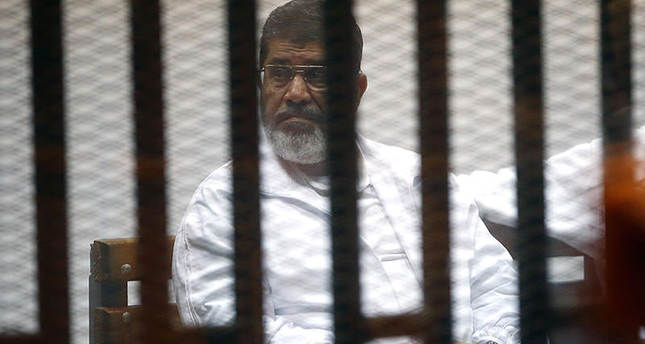 CAIRO, (PNIC)
Hamas on Tuesday hailed the Egyptian Court of Cassation for overturning a death sentence imposed on Mohamed Morsi, the country's first democratically elected president, on charges of collaboration with Hamas.
Hamas spokesman Sami Abu Zuhri said the court rule testifies to the key position granted to the Palestinian cause by the Egyptian authorities.
The Egyptian Court of Cassation on Tuesday quashed a death sentence given to Morsi on charges of spying for foreign parties, in reference to such groups as Hamas and Hezbollah.
Mohamed Morsi was the country's first democratically elected president and was ousted in 2013 by a military coup carried out by incumbent Egyptian President Abdul Fattah Al-Sissi.
He is serving a life sentence in prison for offenses related to alleged espionage and inciting violence.
In June 2015, Egypt's criminal court sentenced Morsi and other leaders of the Muslim Brotherhood movement to life imprisonment. 16 others were sentenced to death on charges of collaboration with foreign parties.
The Brotherhood, which held power for just over a year, has been classified as a terrorist group by the government of Abdul Fattah al-Sissi. Thousands of the group's leaders and supporters have either been jailed, killed or exiled.
Observers widely believe that executing top leaders like Mr. Morsi could lead to a new surge of violence, recommending a retrial of his case.
PCHR report: Nine Palestinians killed during last week alone
GAZA (PNIC):-The Palestinian Center for Human Rights (PCHR) based in Gaza in its weekly report said Israeli violations of international law and international humanitarian law in the oPt continued during the reporting period (27 September – 03 October 2018). (more…)
Report: Wide cooperation between Israeli judicial system and Banks in favor of settlements
By: Madeeha Araj
The National Bureau for Defending the Land and Resisting Settlement said that the Israeli army and its affiliated organs are not only involved in the crime of forging the Palestinian documents which prove their ownership of the land, but also confiscate and (more…)
PCBS: 5% of Palestinian population are elderly
BETHLEHEM (PNIC):-On the occasion of the World Elderly day, the Palestinian Central Bureau of Statistics (PCBS) released a report, on Sunday, that the Palestinian society is considered a young society, where the percentage of young people is high and the percentage of the elderly is relatively low. (more…)