Countrywide protest on Palestinian Nakba anniversary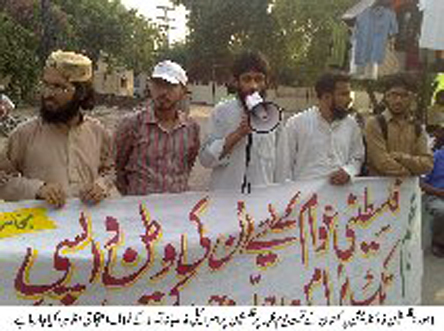 Thousands of protestors staged countrywide demonstrations to mark the anniversary of Nakba Day when Zionist terrorists forced Palestinians to leave their homeland for exile abroad in May 1948.
Under the aegis of Palestine Foundation of Pakistan, the demonstrations were held in Karachi, Lahore, Multan, Hyderabad, Faisalabad and other parts of the country where pro-Palestinians took to streets carrying placards and banners.
They raised slogans in favour of the inalienable rights. They also chanted slogans to condemn the Israeli crimes against humanity in Palestine.
Speaking to the protestors, the PLF leaders said that the Palestinians and their supporters cannot forget the worst crimes against humanity on the day of Nakba (catastrophe). They said that more than 5 million Palestinians have to spend their lives as refugees because the Zionist terrorists massacred the Palestinians and others were left with no option but to leave their homeland to survive.
They said that Pakistani nation unanimously recognize the legitimate right of all Palestinian refugees to return their homeland Palestine. They said that all hurdles in the way of immediate return of Palestinians to Palestine (now occupied under the name of Israel) should be removed forthwith.
The PLF officials further said that the international community has failed to sort out the Palestine issue because the U.S.A. and the EU are staunch allies of the Zionist regime. They said that lip service and empty statements could never help Palestinians attain their rights.They urged the UN and other international bodies to play their role and ensure that Palestinians return and live in Palestine in peace.