Cycle Ride for Palestine held in metropolitan

The people of Pakistan are with the Palestinian people, Israel is an illegitimate state. Palestine is the homeland of the Palestinians.
Karachi ( Palestine Information Centre) Palestine Foundation Pakistan (PLF), has organized a cycle ride for Palestine, the cycle ride for palestine held in metropolitan with the solidarity to oppressed people of Palestine. A large number of citizens participated in cyce ride for Palestine. In the cycle rally, the citizens stood in solidarity with the Palestinian people. Marched from Sharah-e-Faisal to Karachi Press Club. The participants put Pakistani and Palestinian flags on the bicycle while Palestinian national anthems were also played. In the Palestine cycle rally, leaders of political and religious parties, including representatives of civil society and human rights, including Palestine Foundation Pakistan Secretary General Dr. Sabir Abu Maryam, PPP leader Taj Haider, Pakistan Muslim League (Q) leader and Chief Minister Sindh Special Assistant Muhammad Tariq Hasan, Jamaat-e-Islami leader Muslim Pervaiz, PPP leader Arshad Naqvi, Sohail Abidi, former members of Sindh Assembly Mahfooz Yarkhan, Major (retd) Qamar Abbas, Majlis Wahdat Muslimeen leader Allama Ahmed Iqbal, Allama Mukhtar Emami, Allama Sadiq Jafri, PTI leader Asrar Abbasi, Allama Nazer Abbas of Shia Ulema Council, Younis Boneri of Awami National Party, Qazi Zahid Hussain of Pakistan Muslim League-Nawaz, Leader of Jamiat Ulema Pakistan Allama Qazi Ahmad Noorani, Allama Aqeel Anjum, Leader of Pakistan Awami Tehreek Saqib Nowshahi, Aamir Khawaja, PPI leader Kamran Bukhari, Allama Amin Ansari of Muttahida Ulema-Mahaz, renowned scholar Mufti Ferozuddin Rahmani, chairman of Piler Karamat Ali, Kashmir leader Bashir Saduzai, Hindu scholar Manoj Chauhan, Sikh community Sardar Magan Singh, Sardar Arjun Singh, social leader Nasreen Memon, Kanwal Rabab, PTI Kashmir Leader Dua Zabair, Human Rights Council President Jamshed Hussain, Social Leader Khalid Rao, Renowned Naat Khawan Muaz Nizami Chishti, Shah Hussain Rahmani, Renowned Journalist Ahmed Malik, PPP Leader Sohail Abidi, JUP leader Qari Abdul Waheed Younis, well-known columnist Bilal Bashir, Saqlain, Huma Abbasi, Malik Tahir Advocate, Zahid Ali Advocate and others participated.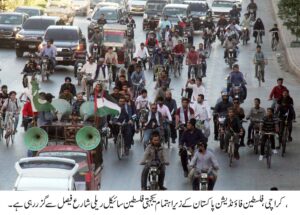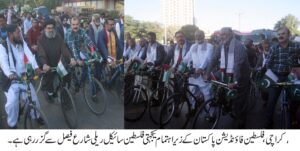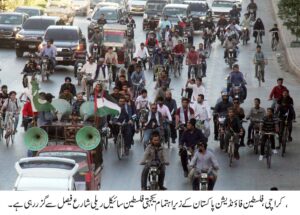 Addressing the solidarity Palestine rally, the speakers said that the issue of Palestine is the most important issue in the world and this issue is connected not only to the Palestinian people but to the entire humanity. The speakers said that the international powers are trying to forget the Palestinian issue and for this purpose Israel's relations with the Arab world are being established, but the United States and the Zionist powers should know that the Palestinian issue belongs to all humanity. There is a problem and it cannot be solved by any conspiracy. He said that the fair solution to the Palestine problem is that all Palestinians return to their homeland Palestine and the Zionists who occupied Palestine return to their countries from which they migrated towards Palestine.
Speakers said that Quaid-e-Azam Muhammad Ali Jinnah had sa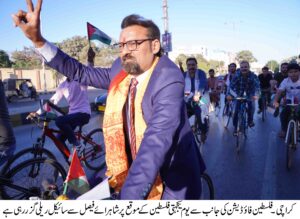 id that Israel an illegitimate state while Palestine is the homeland of Palestinians. They further said that the people of Pakistan will continue all possible efforts to confront the conspiracies against Palestine. On this occasion, the speakers appreciated the establishment and activities of the Palestine Foundation in Pakistan and described it as the need of the hour.