Dozens of injuries reported during Nil'in weekly march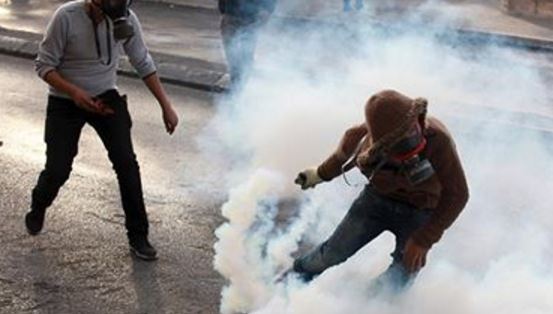 RAMALLAH, (PNIC)
Dozens of Palestinian and foreign activists were injured after Israeli occupation forces (IOF) suppressed Nil'in weekly march west of Ramallah.
Member of the Popular Committee Against the Wall and Settlements in Nil'in Mohamed Amira affirmed that several activists suffered breathing problems after Israeli forces violently attacked the peaceful march with teargas bombs.
Several local homes were also targeted with teargas bombs, he added.
The participants chanted slogans in protest against Israeli occupation and in support of Palestinian prisoners.
Amira pointed out that the protesters performed Friday prayer in nearby olive groves where the preacher, Murad Amira, condemned the latest Israeli attempts to pass legislation legalizing Jewish settlements in the occupied Palestinian territories and banning the call to prayer via loudspeakers.
PCHR report: Nine Palestinians killed during last week alone
GAZA (PNIC):-The Palestinian Center for Human Rights (PCHR) based in Gaza in its weekly report said Israeli violations of international law and international humanitarian law in the oPt continued during the reporting period (27 September – 03 October 2018). (more…)
Report: Wide cooperation between Israeli judicial system and Banks in favor of settlements
By: Madeeha Araj
The National Bureau for Defending the Land and Resisting Settlement said that the Israeli army and its affiliated organs are not only involved in the crime of forging the Palestinian documents which prove their ownership of the land, but also confiscate and (more…)
PCBS: 5% of Palestinian population are elderly
BETHLEHEM (PNIC):-On the occasion of the World Elderly day, the Palestinian Central Bureau of Statistics (PCBS) released a report, on Sunday, that the Palestinian society is considered a young society, where the percentage of young people is high and the percentage of the elderly is relatively low. (more…)