Fatah leader: Peace process is dead, Palestinians must boycott Israeli goods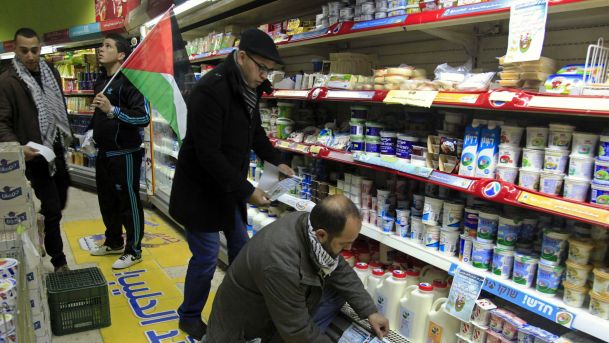 BETHLEHEM (PNIC) — International Relations Commissioner for the Fatah movement Nabil Shaath called on Palestinians to begin a full-fledged consumer boycott of Israel in an interview with The Arab Weekly on Tuesday.
"A consumer boycott should be the Palestinians' weapon against Israel," the newspaper quoted Shaath as saying.
Referring to the decades-long Israeli-Palestinian peace process, which has failed and been revived numerous times, Shaath said Palestinians should "wake up from their dreams of peace," adding that the peace process should be declared dead.
"Rights are not given, but taken by force," Shaath said, saying the biggest strength Palestinians have against Israel's military, air force, and navy, was public action.
"If anything, past experiences and alterations in the world and around us in the region tell us that we should start depending on ourselves, not wait for others to give us our rights," Shaath said.
Shaath criticized peace brokers like the United States and France — who announced its efforts to renew a multilateral peace initiative earlier this year — saying that those countries "cannot realistically put pressure on Israel."
"Israel does not give anything to anybody for free," Shaath said. "It will never give us our land if the cost of occupying this land is not far higher than leaving it."
He went on to emphasize his call on fellow Palestinians to "depend on themselves more" through an economic boycott of Israel.
PCHR report: Nine Palestinians killed during last week alone
GAZA (PNIC):-The Palestinian Center for Human Rights (PCHR) based in Gaza in its weekly report said Israeli violations of international law and international humanitarian law in the oPt continued during the reporting period (27 September – 03 October 2018). (more…)
Report: Wide cooperation between Israeli judicial system and Banks in favor of settlements
By: Madeeha Araj
The National Bureau for Defending the Land and Resisting Settlement said that the Israeli army and its affiliated organs are not only involved in the crime of forging the Palestinian documents which prove their ownership of the land, but also confiscate and (more…)
PCBS: 5% of Palestinian population are elderly
BETHLEHEM (PNIC):-On the occasion of the World Elderly day, the Palestinian Central Bureau of Statistics (PCBS) released a report, on Sunday, that the Palestinian society is considered a young society, where the percentage of young people is high and the percentage of the elderly is relatively low. (more…)