Health condition of cancer-hit Palestinian prisoner deteriorating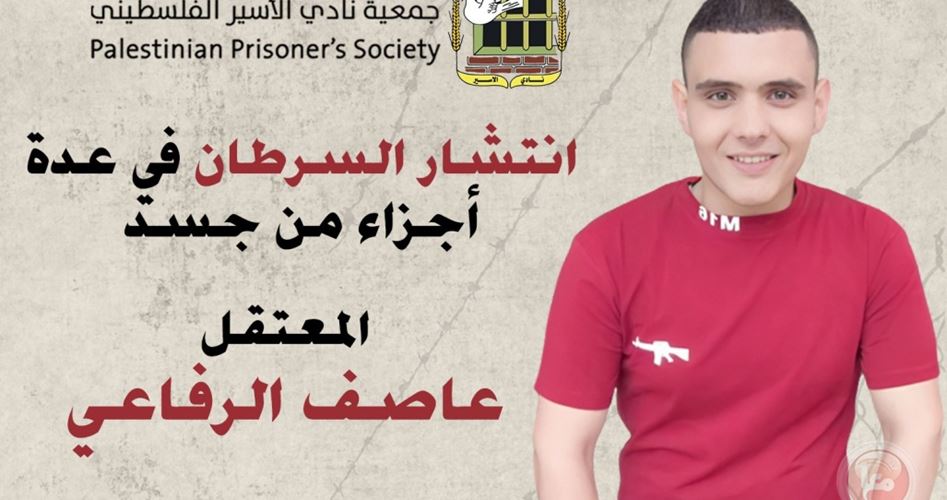 RAMALLAH, (The Palestine Information Centre)The Palestinian prisoner Assef Al-Rifai, who was diagnosed with cancer, was transferred from the Ramla prison clinic to the Israeli Assaf Harofeh Hospital after a serious health deterioration on Thursday.
The Palestinian Prisoner Society (PPS) said that the Israeli authorities continue to hold Al-Rifai, 21, despite his critical health condition and dire need to adequate medical care.
Al-Rifai started receiving treatment last March, nearly seven months after his September 24, 2022 arrest, despite medical reports confirming his extreme health deterioration.
The PPS pointed out that Al-Rifai was subjected to serious human rights violations in the Ramla prison clinic, where his hand was tied to bed during his treatment.
His last medical examinations showed that the cancerous cells had spread to several parts of his body, and had reached new parts of the intestines, glands, and liver in addition to the colon.
The PPS held the Israeli authorities responsible for Al-Rifai's life, calling for urgent intervention to save the lives of Palestinian sick prisoners in Israeli jails