Hezbollah leader Dr.Ahmed Malli meets PMLN leader Salim Zia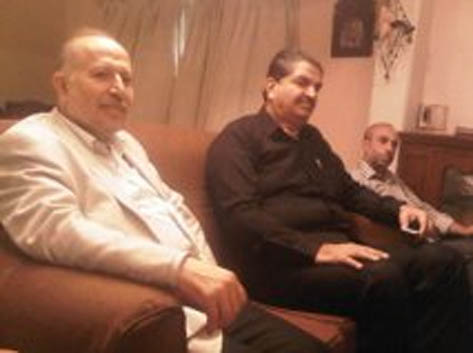 A delegation of Hezbollah has called upon PMLN leader Salim Zia, a leader of Pakistan Muslim League-Nawaz (PMLN) and former provincial law minister.
 The delegation comprised of Dr Ahmad Malli, Incharge, political bureau of Hezbollah Lebanon, Dr. Haidar Dekmak, head of International al Quds Association and Sabir Karbalai, spokesman of Palestine Foundation. PMLN leaders Tanvir Tanoli, Azhar Hamdani and others were also present. Talking to Hezbollah delegates, Salim Zia, said that PMLN considered Hezbollah as a legitimate resistance to foreign occupation. He said that Hezbollah is a political reality of Lebanese politics as well. He said that Hezbollah's struggle against Israel is also a legitimate struggle. He said that Pakistanis support their struggle. He said that United States and Israel are the world's known terrorists. He said that wars imposed by US on Iraq and Afghanistan has further exposed the imperialist power US. "We have always supported Palestine Cause. We shall continue our support to Hezbollah at all forums," he asserted. Dr. Malli said that the martyr chief of Hezbollah Abbas Mousavi had loved Pakistan very much and we also do so. Pakistan was the first country and PML leader Nawaz Sharif was the first Prime Minister who had condoled with us over the martyrdom of Abbas Mousavi and condemned the aggression of Israel. Dr. Malli informed the PML leaders that Hezbollah has become stronger and if Israel imposes war, we shall respond to them with more force. Sabir Karbalai briefed PMLN leaders about four years performance of Palestine Foundation of Pakistan.