IOF demolishes commercial structures in Tulkarem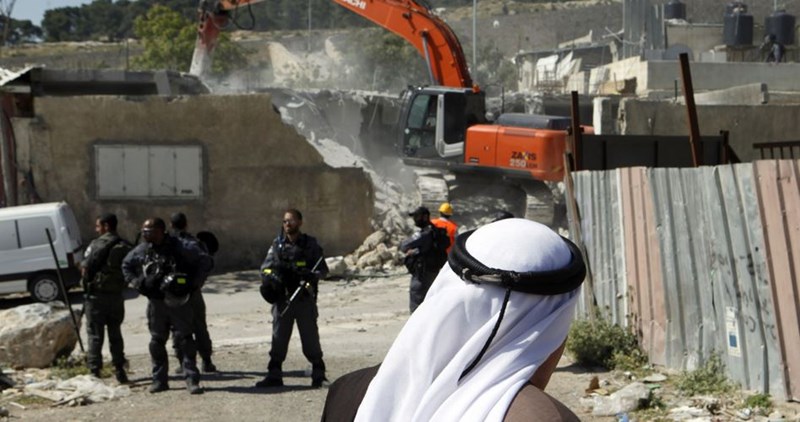 TULKAREM, (PNIC)
The Israeli Occupation Forces (IOF) demolished Sunday evening commercial structures near al-Tiba crossing west of Tulkarem for the second time within a week.
Local sources affirmed that an Israeli military bulldozers demolished Palestinian commercial structures under flimsy security pretexts.
The demolished structures were then transferred in Israeli trucks to unknown place, the sources added.
The commercial structures are used by local farmers to buy their vegetables near al-Tiba crossing.
PCHR report: Nine Palestinians killed during last week alone
GAZA (PNIC):-The Palestinian Center for Human Rights (PCHR) based in Gaza in its weekly report said Israeli violations of international law and international humanitarian law in the oPt continued during the reporting period (27 September – 03 October 2018). (more…)
Report: Wide cooperation between Israeli judicial system and Banks in favor of settlements
By: Madeeha Araj
The National Bureau for Defending the Land and Resisting Settlement said that the Israeli army and its affiliated organs are not only involved in the crime of forging the Palestinian documents which prove their ownership of the land, but also confiscate and (more…)
PCBS: 5% of Palestinian population are elderly
BETHLEHEM (PNIC):-On the occasion of the World Elderly day, the Palestinian Central Bureau of Statistics (PCBS) released a report, on Sunday, that the Palestinian society is considered a young society, where the percentage of young people is high and the percentage of the elderly is relatively low. (more…)