Islamabad:International Palestine Solidarity Conference :"Palestine is just cause for all Muslims of the world and it will be liberated soon"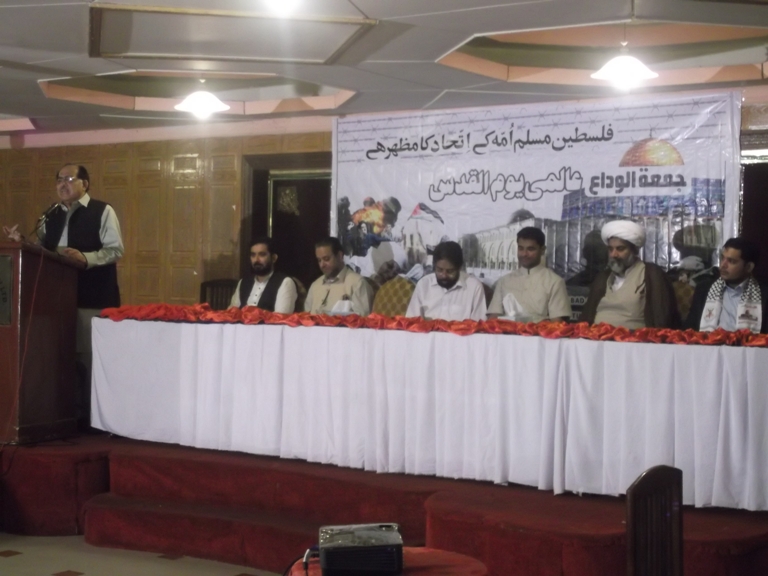 Speakers at an in international conference on Palestine have asserted that Palestine is a legitimate and just for all Muslims who will liberate the sacred land occupied by Zionists.
The international conference on "Palestine: Manifestation of Muslim Ummah's Unity," was held under the aegis of Palestine Foundation of Pakistan at a local hotel here in Islamabad on Saturday.
Sardar Mohammad Ateeq, former Prime Minister of Azad Kashmir, PMLN's senator Zafar Ali Shah, PPP's MNA Imran Zafar Leghari, Asad Umer of Pakistan Tehrik-e-Insaf, Allama Raja Nasir Abbas Jafari of Majlis-e-Wahdat-e-Muslimeen, General (Rtd) Amjad Shoaib, former minister J Salik, intellectual Dr Qandeel Abbas and Sabir Karbalai of Palestine Foundation of Pakistan spoke at the conference.  
The speakers lashed out at United Nations for its failure is sorting out the longstanding Palestine Issue. They said that the UN was an outdated organization that needs to be scrapped.
They said that non-representative monarchies in the Arab Muslim countries were trying to cover up the heinous crimes against humanity of Palestinians. They urged the Muslims rulers to play leading role for liberation of Palestine instead of lip service that served the interests of Zionist Israeli regime.
They expressed concern that around 6 million Palestinians have been made to spend lives as refugees. They demanded that practical steps be taken immediately to ensure return of these refugees to their homeland Palestine.
They demanded that Palestinian prisoners should also be freed without any delay. They welcomed the PLO member Mohammad Zazeh's statement that Oslo Accord was made under compulsion  facts remain that PLO doesn't recognize Israel as legitimate state.
They said that Pakistan also fell victims to the Zionists plots and terrorism because Pakistan never recognized Israel as a legitimate state. They emphasized that Palestine is a legitimate state and world powers have to recognize this very fact.
They condemned the conspiracies of enemies of Islam in Pakistan, Afghanistan, Syria, Iraq and other countries. They said that terrorists who massacre Muslims are agents of global imperialist powers and their ally Zionism.
They maintained that Muslims across the world have to join hands to counter the nefarious designs of the enemies of Islam and Muslims. They condemned the criminal silence of the U.S., U.K. and their allied powers against the Zionist atrocities in Palestine.
They praised Imam Khomeini for highlighting the issue of Palestine and for calling for observance of Global Quds Day on last Friday of holy month of Ramazan. They vowed that Pakistani nation too would observe the Quds Day to express solidarity with the oppressed Palestinians on an appeal of Imam Khamenei. They thanked Palestine Foundation of Pakistan for their efforts to create awareness among Pakistanis about Palestine problem.   
{gallery}plf_conf2013{/gallery}