'Israel' approves law banning Palestinian families from reuniting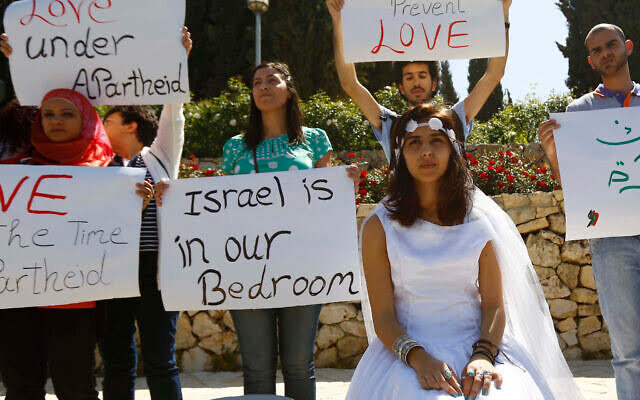 Occupied Palestine – Israel's Knesset passed a law on Thursday effectively banning hundreds of Palestinian families from reuniting and living together.
The Knesset approved the so-called Citizenship and Entry into Israel Law (Temporary Order), 2022, by a 45-15 majority vote.
The law prevents Palestinians from the West Bank or Gaza who are married to Palestinian citizens of 'Israel' from permanently moving to 'Israel'.
It also prevents them from obtaining work, permanent residency and, ultimately, citizenship.
'Israel' claimed the law was passed for security reasons.
However, it is believed to be passed on racist grounds to prevent those Palestinians from becoming "Israeli citizens."
This is in order to maintain a Jewish majority in 'Israel'.
The law also prohibits the entry of Arabs from countries "hostile" to 'Israel' for family reunification purposes.
The countries include Lebanon, Syria, Iraq and Iran.
Following the vote, the Israeli occupation interior minister Ayelet Shaked claimed the law came for the " security of the state."
"The combination of forces between the coalition and the opposition led to an important result for the security of the state and its fortification as a Jewish state," she claimed.
She later tweeted, "A Jewish Democratic country – 1. A state of all its citizens – 0."
Bezalel Smotrich, head of the Religious Zionism alliance in the Knesset, said that the law was "a correct and good outline".
Simcha Rothman, another right-wing lawmaker from the party, said, "The State of Israel is Jewish and so it will remain."
Human rights groups have long warned of the seriousness of the law.
Palestinians, however, consider the law racist.
The so-called Citizenship Law was first introduced in 2003.
It came to prevent Palestinians of the West Bank and Gaza from gaining residency or citizenship through marriage to a Palestinian citizen of 'Israel', or a resident of East Jerusalem.
Palestinian citizens of 'Israel' are make up 20 percent of the population and would be gravely affected by the law.
Khaled Zabarqa, a lawyer and Palestinian citizen of 'Israel', said that "the law enshrines the apartheid regime into a Knesset legislation".
"It is based on demographic reasoning to maintain a Jewish majority," Zabarqa wrote on his social media account on WhatsApp.
"It constitutes an era to target the Arab presence directly, not just our family in the West Bank but also target us."
Israel's Palestinian Arab population is targeted with 65 different government laws and regulations, according to Adalah.
Those laws came to ensure Palestinian Arabs do not prosper as a community.