Israeli army arrests Palestinian, foreign activists in al-Khalil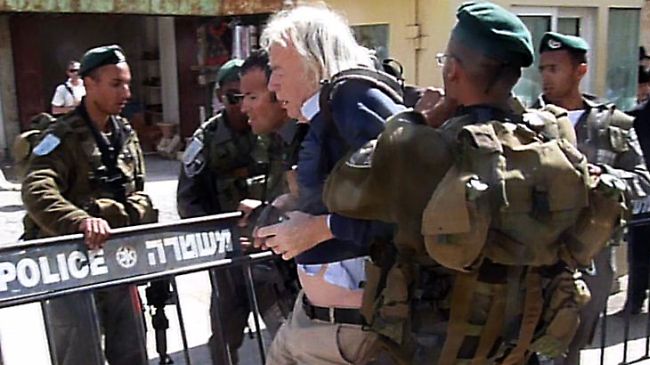 Israeli soldiers have arrested two Palestinian and two Italian activists in the southern West Bank city of al-Khalil (Hebron) for a conference on popular struggle.The activists arrested on Wednesday were part of a group which assembled near the city's Israeli-controlled flashpoint known as the Ibrahimi Mosque,
AFP quoted Israeli authorities as saying. An Israeli police spokeswoman said the campaigners had "shouted slogans and started staging an unauthorized protest." The group was visiting al-Khalil on the second day of the Bil'in 7th Annual Conference on Popular Struggle, which encourages the growth of peaceful protest in the Palestinian territories. Abir Kopty, a spokeswoman for the conference, said that initially eight Palestinians and four Europeans were detained by Israeli troops but most of them were later released. She said that the two foreigners who remained in Israeli custody on Wednesday evening were Italian nationals. The conference began on Tuesday in the West Bank village of Bil'in, where Palestinians and international human rights activists have been holding weekly protests over the past years against Israel's separation wall. In 2000, Israel started the construction of the nearly 760-kilometer barrier which cuts through Palestinian villagers' farmland. The International Court of Justice has ruled that the wall is illegal and should be taken down.