Israeli bulldozers demolish parts of Palestinian home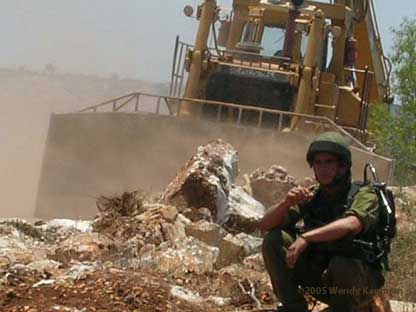 OCCUPIED JERUSALEM, (PNIC)
Israeli military bulldozers demolished at dawn Tuesday parts of a Palestinian home east of occupied Jerusalem under the pretext of being built without Israeli permit.
The house's owner Musab Shiyoukhi told Quds Press that Israeli bulldozers escorted by Israeli police violently stormed Silwan town and started demolishing parts of his house.
Two rooms, which were built two years ago on an area of 30 meters, were demolished.
Shiyoukhi pointed out that he received a demolition order from the Israeli municipality nearly a year ago.
He said that the real reason behind the demolition order is that his cousin had carried out an anti-occupation attack last October.
Israel continues its demolition policy against houses of slain Palestinians and prisoners who were accused of being involved in anti-occupation attacks although it is prohibited under international law and constitutes collective punishment.
PCHR report: Nine Palestinians killed during last week alone
GAZA (PNIC):-The Palestinian Center for Human Rights (PCHR) based in Gaza in its weekly report said Israeli violations of international law and international humanitarian law in the oPt continued during the reporting period (27 September – 03 October 2018). (more…)
Report: Wide cooperation between Israeli judicial system and Banks in favor of settlements
By: Madeeha Araj
The National Bureau for Defending the Land and Resisting Settlement said that the Israeli army and its affiliated organs are not only involved in the crime of forging the Palestinian documents which prove their ownership of the land, but also confiscate and (more…)
PCBS: 5% of Palestinian population are elderly
BETHLEHEM (PNIC):-On the occasion of the World Elderly day, the Palestinian Central Bureau of Statistics (PCBS) released a report, on Sunday, that the Palestinian society is considered a young society, where the percentage of young people is high and the percentage of the elderly is relatively low. (more…)