Israeli forces brutally assault, disperse Palestinians gathering to mark Islamic holiday in Jerusalem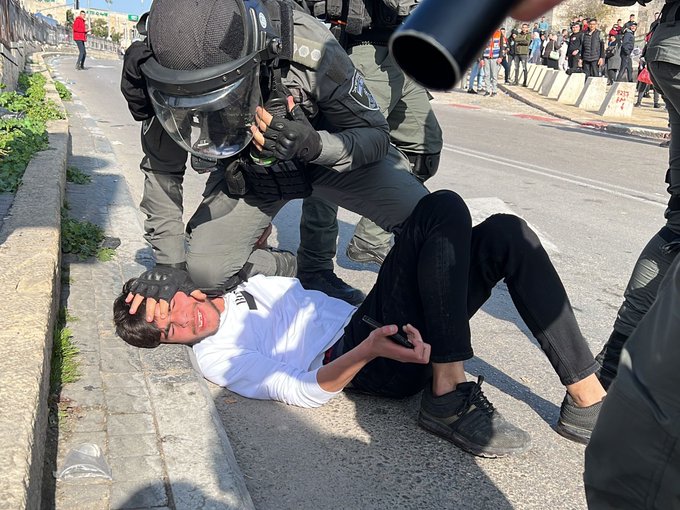 Occupied Jerusalem – Israeli occupation forces have brutally assaulted and dispersed hundreds of Palestinians gathering in the Bab Al-Amud area in occupied Jerusalem to mark an Islamic holiday on Monday.
Earlier today, thousands of Palestinians from Jerusalem, West Bank and 1948-occupied Palestine headed to the Al-Aqsa to celebrate the Isra and Mi'raj, a night that marks Prophet Muhammad's (PBUH) journey from Mecca to Jerusalem and ascent into heaven.
The Palestinians have gathered at the Al-Aqsa Mosque courtyards and the Bab Al-Amud plaza, one of the main entrances to the Old City.
In celebration of the Islamic holiday, the Palestinians distributed sweets, raised the flag of Palestine, sang Islamic songs and some women wore the traditional Palestinian thobe.
However, the well-armed Israeli occupation soldiers have violently attacked and detained the Palestinians while celebrating the Islamic holiday. In the Bab Al-Amud plaza, the occupation soldiers brutally attacked and beat the Palestinians, injuring dozens of them, including women and children. The forces also detained over 8 Palestinians after violently attacking them and confiscating the flag of Palestine which they were raising, including a girl and children.
The occupation forces intensively used skunk water cannons and fired sound bombs to disperse the non-violent Palestinians.
The Plaza is a popular spot where Palestinians gather, drink coffee and sing national songs as a form of civil protest.
It has also been the site of more formal demonstrations by Palestinians and violent suppression by Israeli police.
Thus, the Bab al-Amud plaza has become the scene of a battle and tensions that included large numbers of Israeli police officers and forces, including mounted ones.
They wield water cannons to disperse Palestinians gatherings at the site, attack and detain them.
Last May, violent attacks by Israeli police on Palestinian gatherings at the Bab al-Amud Gate provoked tensions across the holy city.
The Israeli forces tried to bar Palestinians from Jerusalem holy sites and a settler group worked to forcibly displaced Palestinians from their homes in occupied Jerusalem.
Such tensions led to Israel's May aggression on the Gaza Strip which killed at least 260 Palestinians, including 66 children, and caused widespread damage to infrastructure and residential areas.