Israeli forces detain 41 Palestinians, injure 2 in massive raids across occupied territory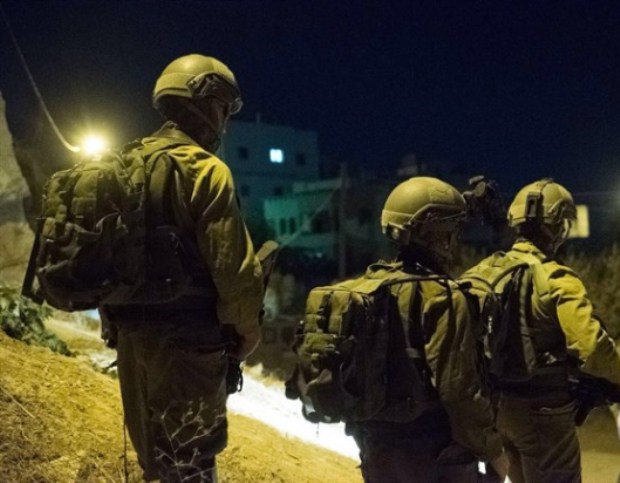 BETHLEHEM – (PNIC) –
Israeli forces detained at least 41 Palestinians during detention raids from Monday evening to Tuesday before dawn across the occupied Palestinian territory, Israeli and Palestinian sources said, while two Palestinians were also shot and injured by Israeli fire during a detention raid into a Bethlehem refugee camp that also reportedly left two Israeli soldiers wounded.
The Palestinian Prisoner's Society (PPS) reported 28 overnight detentions in both occupied East Jerusalem and the West Bank, whereas an Israeli army spokesperson told Ma'an they had records of a total of 27 detentions overnight in the West Bank, although they could not provide locations for three of them.
East Jerusalem and the Jerusalem district
According to PPS, at least 14 Palestinians, including three minors, were detained in occupied East Jerusalem during evening and predawn raids.
Nine of the detainees were detained in the neighborhood of Issawiya, identified by PPS and prisoners rights group Addameer as Rida Muhammad Ubeid, 15, Dawood Yousif Atiyeh, 17, Mumin Mamoun Muheisin, 15, Mansour Mahmoud, Shadi Muheisin, Moussa Asila, Hamdi Hreiz, Yasin Subih, and Ahmad Jamal Atiyeh.
According to PPS, Israeli forces also detained three brothers of Ayman al-Kurd, a Palestinian who stabbed and moderately injured two Israeli police officers on Monday. The group identified the brothers as Ammar, 23, Alaa, 25, and Luay.
PPS added that Hussein Atiyeh and Hani Dirbas were also detained in Jerusalem, only to be released shortly afterwards.
While an Israeli army spokesperson did not comment on detentions in East Jerusalem, as these are usually carried out by Israeli police, she told Ma'an that the army had detained one Palestinian in the village of Qatanna in the Jerusalem district of the occupied West Bank.
Hebron district
In the southern West Bank district of Hebron, PPS reported the detention of Hamad Samir Hassan and Muhammad Arafat Abu Sbeih, 20, without specifying their precise locations.
Locals, meanwhile, reported that Israeli troops detained Hamzah al-Atrash in the city of Hebron on Monday evening, seizing large amounts of money from his home during the raid.
The Israeli army spokesperson told Ma'an that they had records of two detentions in the Hebron area village of Dhahiriya, and one detention in the village of al-Burj.
Seven Palestinians from Hebron have been killed by Israeli forces since Thursday, amid an uptick in violence after a period of relative calm. The Israeli army has since deployed an additional battalion to the district.
Some 230 Palestinians have been killed by Israelis since the beginning of a wave of unrest nearly a year ago across the occupied Palestinian territory and Israel. Some 32 Israelis have been killed by Palestinians during the same time period.
The Hebron area in particular grew as the epicenter of upheaval, with Israeli authorities enacting the most widespread restrictions on movement in the occupied West Bank in two years.
Bethlehem district
In the district of Bethlehem, Israeli forces detained Salama Muhammad Taqatqa in the village of Beit Fajjar, Ahmad Faris Fararja in Doha, Ramiz Abu Ajamiyeh in the al-Duheisha refugee camp, as well as Yasin Bdeir and Ibrahim Abu Srour in the Ayda refugee camp, PPS reported.
Clashes erupted in al-Duheisha, during which two Palestinians and two Israeli soldiers were reportedly injured while detaining 13-year-old Abu Ajamiyah.
Locals told Ma'an that one Palestinian youth was shot in the knee with live fire, while another was injured in the foot by a rubber-coated bullet.
The injuries corroborated a recent report by Palestinian NGO BADIL, which revealed that an Israeli army commander responsible for the near-nightly raids into Bethlehem's three refugee camps — Duheisha, Aida, and Azza — threatening to disable all the camp youth in Duheisha.
BADIL reported at the time that at least 83 people had been shot with live ammunition since the beginning of the year, the majority in their legs and knees, causing both permanent and temporary disabilities.
The Israeli army spokesperson told Ma'an that Palestinian youth threw Molotov cocktails and rocks at soldiers in al-Duheisha, injuring two soldiers who were later taken to the hospital. She added that Israeli troops used unspecified "riot dispersal means" before firing at "the main instigators" of the clashes.
The Israeli army listed one detention in Beit Fajjar, three in al-Duheisha refugee camp, and two in Aida refugee camp.
Ramallah district
In the central occupied West Bank district of Ramallah, PPS reported the detention of seven Palestinians, the majority of whom it said were detained in the al-Jalazun refugee camp.
PPS identified the Ramallah-area detainees as Uday Majid Qatawi, 18, Uday Mustafa Nakhla, 17, Osama Mustafa al-Hattab, 15, Ali Omar Nakhla, 25, Mujahid Salah Elayyan, 16, Yousif Sami Dar Mislih, 16, and Thakir Aziz Arar, 35.
Meanwhile, the Israeli army confirmed six detentions in al-Jalazun, one in Beituniya, and one in the village of Atara.
Jenin district
In the northern West Bank district of Jenin, PPS reported the detentions of Muhammad Fahid Suqiya and journalist Musab Zayoud, without specifying their locations.
The Israeli army said one alleged "Hamas operative" was detained in the city of Jenin.
Tulkarem district
Meanwhile, PPS reported that Raed Rashid Kharbat was detained in the district of Tulkarem.
The Israeli army reported two detentions in the village of Attil, as well as one alleged "Hamas operative" detained in Silat al-Harithiya.
Nablus district
In the Nablus district, PPS reported that Israeli forces detained Muhammad Ramiz Zreiq, 19, and Omar al-Shakhshir.
The army said one Palestinian was detained in the city of Nablus, while another was detained in the Balata refugee camp.
According to Addameer, 7,000 Palestinians were held in Israeli prisons as of August. The group estimates that 40 percent of Palestinian men have been detained by Israel at some point in their lives.
PCHR report: Nine Palestinians killed during last week alone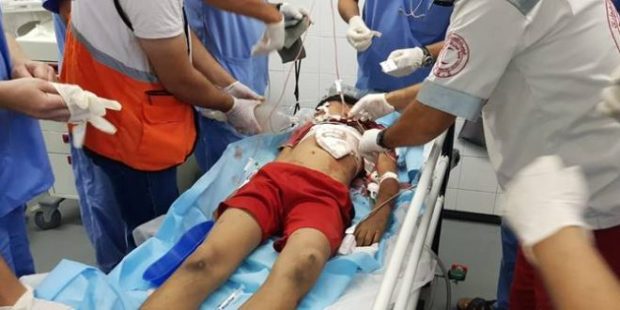 GAZA (PNIC):-The Palestinian Center for Human Rights (PCHR) based in Gaza in its weekly report said Israeli violations of international law and international humanitarian law in the oPt continued during the reporting period (27 September – 03 October 2018). (more…)
Report: Wide cooperation between Israeli judicial system and Banks in favor of settlements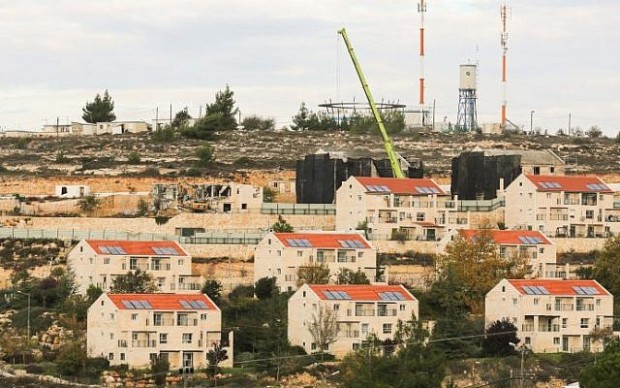 By: Madeeha Araj
The National Bureau for Defending the Land and Resisting Settlement said that the Israeli army and its affiliated organs are not only involved in the crime of forging the Palestinian documents which prove their ownership of the land, but also confiscate and (more…)
PCBS: 5% of Palestinian population are elderly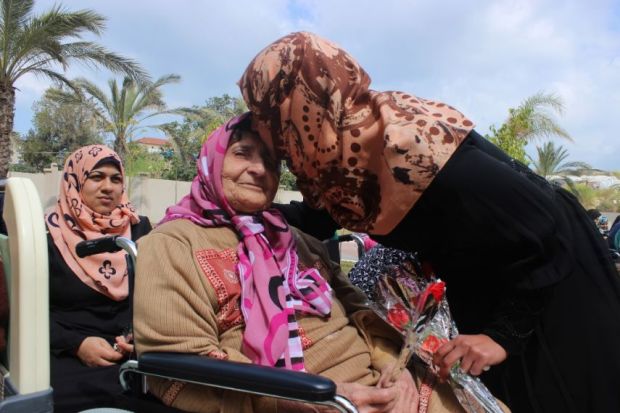 BETHLEHEM (PNIC):-On the occasion of the World Elderly day, the Palestinian Central Bureau of Statistics (PCBS) released a report, on Sunday, that the Palestinian society is considered a young society, where the percentage of young people is high and the percentage of the elderly is relatively low. (more…)