Israeli forces detain Palestinian in Al-Aqsa Mosque while allowing settler incursions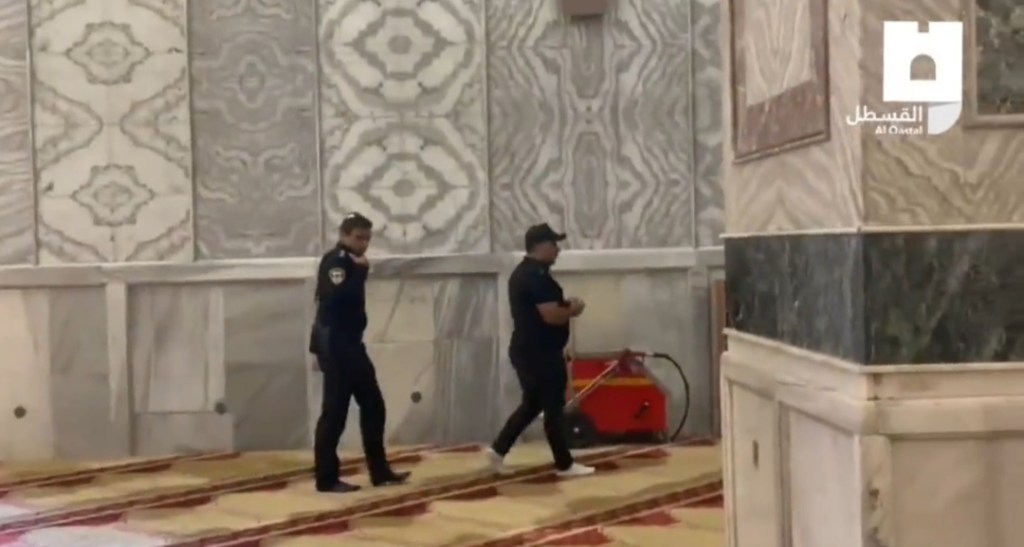 Occupied Jerusalem – Israeli occupation forces earlier on Tuesday detained a Palestinian young man, who did nothing but calling "Allah is Greater" in the courtyards of Al-Aqsa Mosque in the occupied city of Jerusalem.
While allowing 133 extremist Israeli settlers to break into the courtyards of Al-Aqsa Mosque today and provoke Palestinian worshipers by performing Talmudic prayers to mark the so-called Jewish New Year, the forces detained a Palestinian youth, identified as Fathi Al-Jamal, at the courtyards of the mosque over calling "Allah is Greater."
Today is the first day of the Jewish holidays in which groups of Israeli fanatics and terrorist organizations had called for massive raids into the holy mosque from Sunday to Thursday to mark the so-called Jewish New Year.
The settlers today broke into the courtyards of the holy site and entered through the Damascus Gate- which Palestinians call Bab al-Amoud Gate- and till now, they are provoking the Palestinians in the mosque by performing Talmudic prayers.
Among the intruders was a former Israeli member of the Knesset, Rabbi Yehudah Glick, who was chanting "Happy New Year" in the courtyards of the mosque.
" سنة سعيدة عليكم جميعاً"..
بهذه الجملة غادر الحاخام يهودا جليك والمستوطنون جولتهم الاقتحامية للمسجد الأقصى صباح اليوم في أول أيام ما يسمى " رأس السنة العبرية" pic.twitter.com/NNWkFk55Lv

— AlQastal القسطل (@AlQastalps) September 7, 2021
Israeli occupation authorities allow settler incursions to the mosque since 2003 under the forces protection, despite repeated objections and warnings by the Palestinian religious authorities as the visits provoke worshippers of the mosque.
Israeli forces always facilitate and protect the settlers breaking into the holy site while preventing Palestinian worshipers from entering it, assaulting and detaining them.
Al-Aqsa Mosque is the third holiest site in Islam which located in occupied Jerusalem.