Israeli forces injure at least 12 Palestinians in Nablus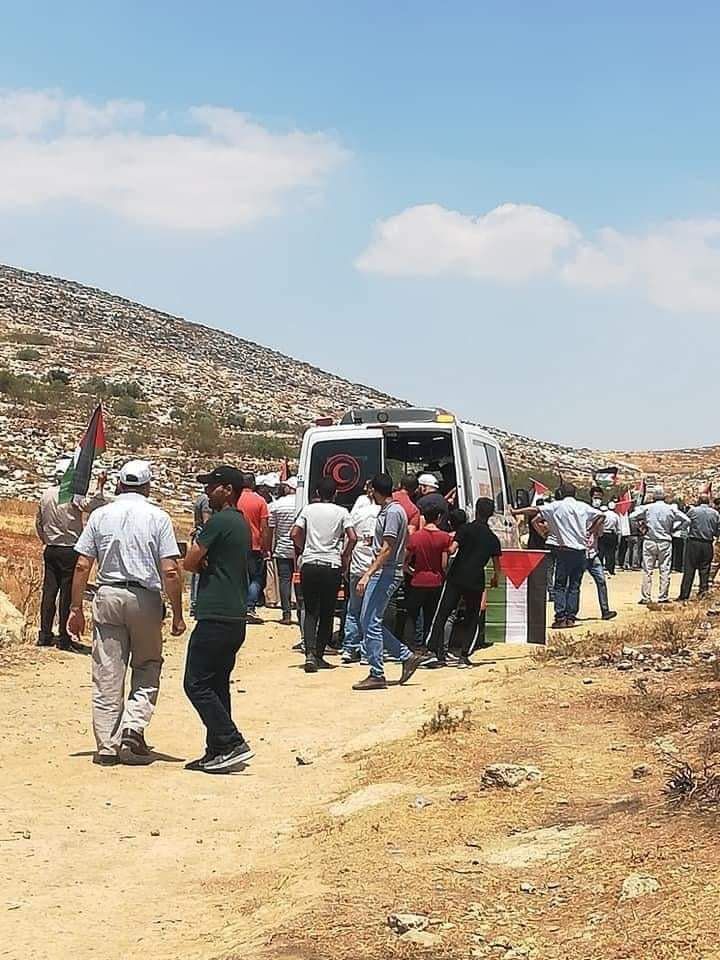 Nablus – At least 12 Palestinian protesters were injuried by Israeli occupation forces on Friday evening in Beita and Beit Dajan villages in Nablus in the occupied West Bank.
The Palestinian Red Crescent said at least 12 Palestinians were injuried by rubber-coated metal bullets shot by Israeli forces in Beita and Beit Dajan villages, including two journalists.
فيديو| لحظة نقل شاب أصيب برصاص الاحتلال في بلدة بيتا جنوب نابلس.#فلسطين #الجمعة pic.twitter.com/5XLNaG9DiK

— شبكة قدس الإخبارية (@qudsn) July 16, 2021
Beit Dajan and Beita villages are the site of weekly protests against the Israeli occupation and settlement expansion, which are often suppressed by Israeli forces.
While Beit Dajan village lands spread across approximately 6,650 acres, according to the Applied Research Institute – Jerusalem, large swathes of territory east of the village have been confiscated by the occupation state, labelled military zones and turned into the site for military bases and settlements, which are illegal under international law.
A large part of the village lands were seized for the construction of Al-Hamra and Mekhora (Mehola) illegal settlements, east and southeast of the village, in 1971 and 1973.
Regarding Beita, the occupation authorities also evacuated dozens of Israeli settlers two weeks ago from the illegal settlement of Evyatar in Beita, after a deal was reached between a settler leader and the occupation government of new Prime Minister Naftali Bennett.
Yossi Dagan, head of settler organisation the Shomron Regional Council, struck a deal with Israel's defence minister, Benny Gantz, and interior minister Ayelet Shaked, that will turn Evyatar into a religious school and a military base for the Israeli forces.
'Israel' will keep about 50 caravan houses settlers installed in May on Palestinian lands belonging to the residents of the occupied West Bank village of Beita, while settlers would "return" to the land when Israeli occupation authorities designate it as "state-owned."
In early May, a group of Israeli settlers set up caravans on Jabal Sabih, and with the help of Israeli occupation forces have since prevented any Palestinian access to the area.
Within days, settlers installed mobile houses, built roads and raised an Israeli flag over the settlement.
Since then, Beita has witnessed several protests against the new settler outpost on Jabal Sabih, which lies on the southern outskirts of the village and comprises an estimated 30 percent of Beita's entire land area.
The livelihoods of at least 17 Palestinian families – more than 100 people – are threatened as they depend on harvesting their olives on land they have owned for generations.