Israeli forces shoot dead four Palestinians during predawn raids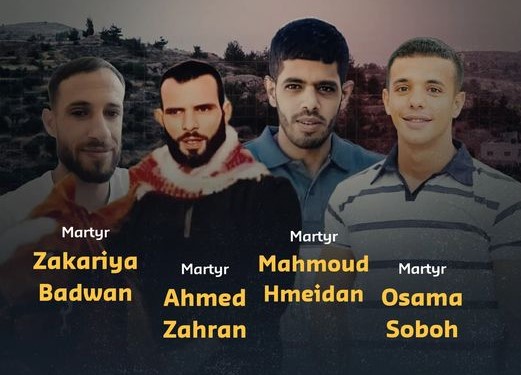 Occupied Palestine – Israeli occupation forces shot dead four Palestinian freedom fighters during raids in the occupied West Bank in the predawn hours of Sunday morning, medical and local sources said.
Sources said that three Palestinian freedom fighters were shot dead by Israeli forces gunfire in the village of Beit Anan in the vicinity of Ramallah.
The three martyrs were identified as Ahmad Zahran, Mahmoud Hmeidan, and Zakaria Bedwan.
The fourth, identified as Osama Soboh, was shot dead in the head by Israeli forces with live bullets, in Burqin town, west of Jenin, in the northern West Bank, after the forces raided the village and sealed off a house, sparking clashes with its residents, firing live bullets and injuring at least 8.