Israeli forces storm Al-Aqsa mosque, suppress Palestinian protesters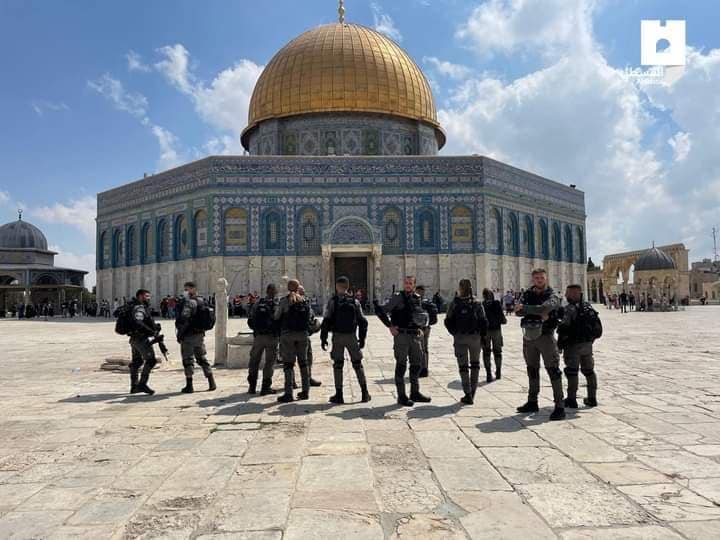 Occupied Jerusalem – Israeli occupation forces on Friday stormed Al-Aqsa mosque in the occupied city of Jerusalem and suppressed Palestinians as they held a protest in support of prisoners in Israeli jails.
Local sources said a large number of Israeli forces stormed al-Aqsa mosque and started suppressing Palestinians participating in a protest against Israeli crackdown and repression of Palestinian prisoners in its jails
The forces also are reportedly arresting several Palestinians in the mosque.
Several vigils were held today all over the occupied Palestinian territories, as the Palestinian factions and activists yesterday called for a "day of rage" on Friday to support the Palestinian prisoners who have been suppressed by Israeli authorities.
Israeli special units and prison administration cracked down on several prisons for four days in a row, including Ketziot's Section 6 in the Negev and Ramon Prison, in an attempt to disperse some 400 Palestinian prisoners from the Islamic Jihad in a number of other jails.
In response, all Palestinian prisoners held in Israeli jails announced general alarm and insurgency against Israeli laws, in response to the Israeli repression and punitive measures.
The Palestinian prisoners in the Negev and Ramon prisons set fire in the sections of the prisons, as a part of their protest against the Israeli laws.
The occupation authorities has also canceled the family visits for the Palestinian prisoners in its jails until the end of September, according to the Palestine Prisoner's Society (PPS).
Such tensions came after the heroic act of six Palestinian prisoners who managed to free themselves on September 6 2021, from Gilbou prison, a high-security Israeli prison, through a secret tunnel they had reportedly dug beneath the prison.
Gilbou's six breakers were identified as belonging to the Islamic Jihad movement, except one who is a former commander of Fatah's Al Aqsa Martyrs Brigades.
Thus, the planned relocation of the prisoners belonging to the Islamic Jihad was part of a set of punitive and repressive measures taken by the Israeli Prison Service (IPS) following the Gilbou's prison break.