Israeli media: New areas suffered from fires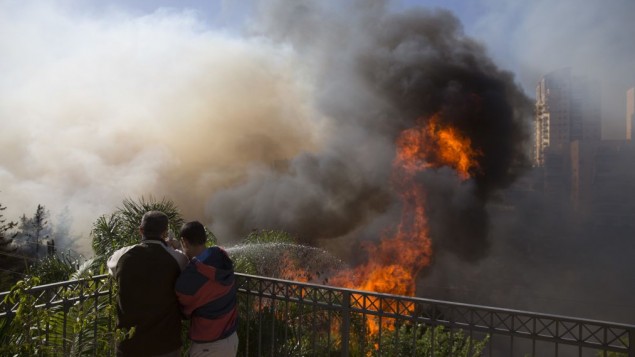 OCCUPIED JERUSALEM, (PNIC)
Israeli media outlets said that several new brush fires broke out on Sunday in different areas of Israel (the 1948 occupied territories).
According to Israeli news reports, a small forest near Hadera city caught fire before Israeli fire brigades managed with aerial support to control the blazes.
New brush fires were also seen raging near the ethnically cleansed Palestinian village of Sataf in west Jerusalem. No efforts to extinguish the flames were reported.
Earlier in the morning, the Israeli police reported forest fires in Kiryat Malachi city, south of Israel, before fire crews intervened to control them.
In the Jerusalem Hills area alone, the recent fires have so far destroyed more than 5,000 dunums (1,250 acres) of forest, and as of Sunday night, firefighters were still battling blazes, according to Haaretz newspaper.
The Jerusalem Hills also suffered fires in 2014 and last May 2016.
In a related context, an Israeli expert warned Sunday that the forest fires in Israel would only get worse in the coming years because of climate change.
Yohay Carmel, professor of environmental, water and agricultural engineering at the Technion-Israel Institute of Technology, said that "climate change is causing things we have not seen before." 
"In 2010, there was no significant rainfall until early December, so the vegetation had endured nine months of aridity." This year has been similar, and "in this situation, you do not need arson; anything can ignite the vegetation."
"Israel is not the only country experiencing an upsurge in fire damage. Forest fires of similar magnitude or worse have recently been raging annually throughout the Mediterranean basin, including in Spain, Portugal, Greece, and France, as well as in other parts of the globe, such as California and Australia," Haaretz said.
PCHR report: Nine Palestinians killed during last week alone
GAZA (PNIC):-The Palestinian Center for Human Rights (PCHR) based in Gaza in its weekly report said Israeli violations of international law and international humanitarian law in the oPt continued during the reporting period (27 September – 03 October 2018). (more…)
Report: Wide cooperation between Israeli judicial system and Banks in favor of settlements
By: Madeeha Araj
The National Bureau for Defending the Land and Resisting Settlement said that the Israeli army and its affiliated organs are not only involved in the crime of forging the Palestinian documents which prove their ownership of the land, but also confiscate and (more…)
PCBS: 5% of Palestinian population are elderly
BETHLEHEM (PNIC):-On the occasion of the World Elderly day, the Palestinian Central Bureau of Statistics (PCBS) released a report, on Sunday, that the Palestinian society is considered a young society, where the percentage of young people is high and the percentage of the elderly is relatively low. (more…)