Israeli overnight arrest campaign in West Bank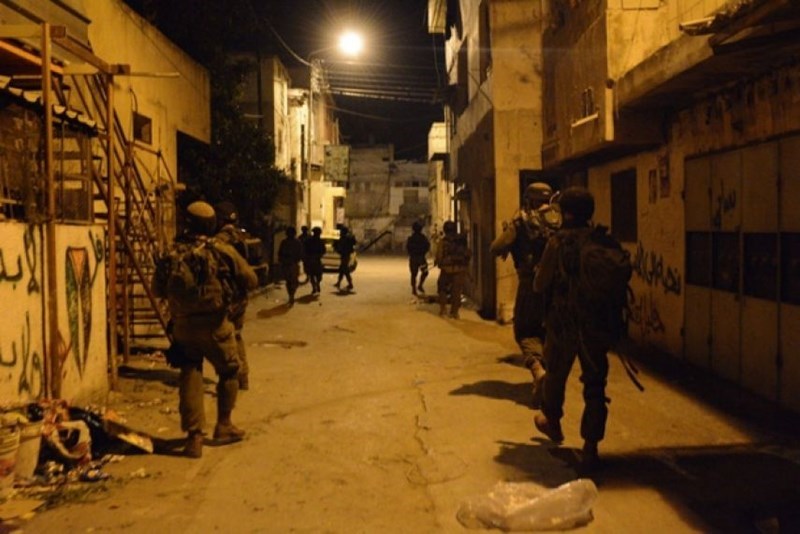 WEST BANK, (PNIC)Â 
The Israeli Occupation Forces (IOF) carried out an overnight raid and arrest campaign throughout the West Bank.
In Jenin, at least one young man was arrested while several others were investigated and brutally attacked.
Local sources told the PIC reporter that five Israeli military vehicles stormed Jenin refugee camp at dawn today and arrested the youngster Nidal Jaafar after violently breaking into his family house.
Neighboring houses were also stormed and searched, the sources added.
A military checkpoint was erected at the southern entrance to the city, restricting the locals' movement.
Meanwhile, three arrests were reported as IOF stormed Nahalin town in Bethlehem.
Two minors were among the three detainees.
Another arrest was carried out in Amari refugee camp in Ramallah.
PCHR report: Nine Palestinians killed during last week alone
GAZA (PNIC):-The Palestinian Center for Human Rights (PCHR) based in Gaza in its weekly report said Israeli violations of international law and international humanitarian law in the oPt continued during the reporting period (27 September – 03 October 2018). (more…)
Report: Wide cooperation between Israeli judicial system and Banks in favor of settlements
By: Madeeha Araj
The National Bureau for Defending the Land and Resisting Settlement said that the Israeli army and its affiliated organs are not only involved in the crime of forging the Palestinian documents which prove their ownership of the land, but also confiscate and (more…)
PCBS: 5% of Palestinian population are elderly
BETHLEHEM (PNIC):-On the occasion of the World Elderly day, the Palestinian Central Bureau of Statistics (PCBS) released a report, on Sunday, that the Palestinian society is considered a young society, where the percentage of young people is high and the percentage of the elderly is relatively low. (more…)