Israeli PM calling UN Secretary General Ban Ki-moon a terrorist is a violation of international laws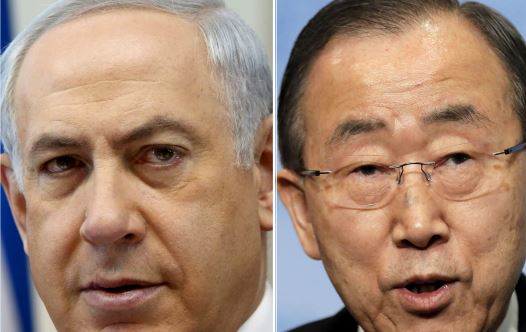 (PNIC) – Muzaffar Ahmed Hashmi, Allama Abbas Kumeli, Allama Qazi Noorani, Molana Baqar Zaidi, Mehfooz Yar Khan, Azhar Hamdani, Zahida Bhand, Karamat Ali, Tariq Shadab and Sabir Abu Maryam expressed thoughts
Karachi: Central leaders of Palestine Foundation Pakistan including former member of National Assembly and vice President of Jamat e Islami Karachi Muzaffar Hashmi, Head of Jafria Alliance Pakistan Senator Allama Abbas Kumeli, central leader of Jamiat e Ulema e Pakistan Allama Qazi Ahmed Noorani Siddiqui, President of MQM Pakistan's legal aid committee , Mehfooz Yar Khan Advocate, central leader of MWM Pakistan Molana Baqar Zaidi, leader of PML-N Syed Azhar Hamdani, President of Pailer Karamat Ali, President of PML-N women wing Sindh Zahida Bhand, Tariq Shadab from Amnesty International and central secretary general of Palestine Foundation Pakistan Sabir Abu Maryam has strongly condemned and criticized Israeli PM's statement alleging UN's Secretary General Ban Ki-moon as a terrorist and said 'Israel is a terrorist and oppressive Zionist state and Netanyahu and Israeli are the real roots of terrorism'.
They further said 'if supporting oppressed Palestinians comes under terrorism then what do we call Israel's terrorism and inhumane acts and injustices?' All the leaders declared Israeli PM's allegation as the violation of International laws and equal to blaming all nations of the world as terrorists. They also demanded the international community to make serious efforts for the resolution of Palestine issue otherwise the whole world would become target of Israeli terrorism.
Leaders also declared support and empathy with Palestinian journalist Al-Qeeq detained in Israel's jail and who has been on hunger strike since two months for his arrest without any reason and hence, facing serious threats to his life.
The UN Secretary General had recently condemned Israeli injustices in occupied Palestine and building of Zionist colonies on Palestinians' lands and had declared it illegal after which Israel's PM Netanyahu called Ban Ki-moon a terrorist and supporter of militants.