Jerusalem blaze spreads for second day, 'Israel' calls for intl aid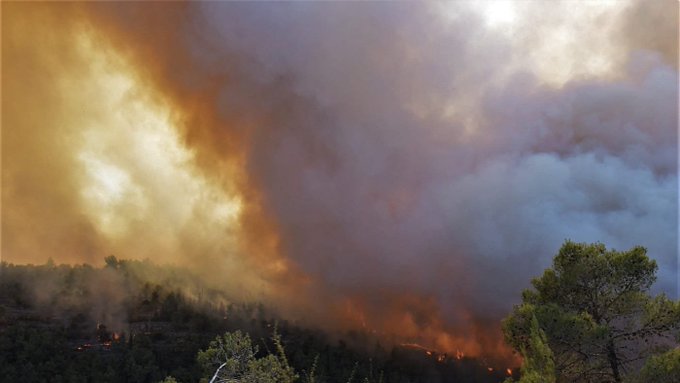 Occupied Jerusalem – As fire continues to spread across occupied Jerusalem for the second day, 'Israel' is considering requesting international aid to combat the wildfire which forced hundreds of settlers to evacuate their homes.
Israeli Prime Minister Naftali Bennett has instructed the Israeli Public Security Minister Omer Bar Lev and National Security Council to consider requesting international aid to fight the fire.
As the large blazes began rapidly spreading towards nearby settlements, Israeli emergency forces began evacuating hundreds of settlers of the illegal settlements of Givat Ye'arim, Kibbutz Tsuba, Ein Rafa and Ein Naqquba.
The fires have consumed some 4,200 acres of natural forest, Israeli officials said Monday.
Watch | Scenes from the fires erupted in agricultural lands near the Israeli occupation settlements in the occupied #Jerusalem, today. pic.twitter.com/JRjE396m8L

— Quds News Network (@QudsNen) August 16, 2021