Jewish settler crimes carried out in broad daylight: Palestinian Foreign Ministry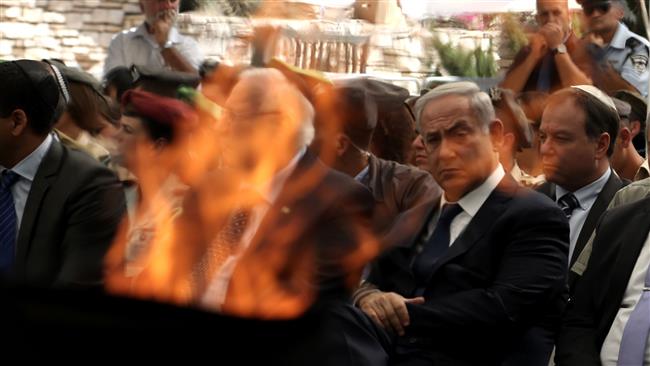 occupied West Bank (PNIC) The Palestinian Foreign Ministry says that Israeli Prime Minister Benjamin Netanyahu is fully responsible for the crimes carried out by Jewish settlers against the people of Palestine.
In a statement released on Sunday, the ministry slammed Netanyahu for his support for illegal settlers that allows them to carry out crimes against Palestinians without prosecution.
It added that the continued attacks show that Netanyahu is not serious about pursuing Jewish terrorist groups and even encourages them.
The statement also noted the ministry's surprise over the absence of international reaction to such crimes which are being carried out in broad daylight.
The statement went on to call on human rights organizations to document the Tel Aviv regime's crimes to later use them as evidence in international courts.
Meanwhile, a group of Israeli settlers attacked Palestinian farms in the northern part of the occupied West Bank, beating and injuring three Palestinians.
The incident occurred in the village of al-Janiyah, some eight kilometers northwest of Ramallah, where 15 settlers from the nearby settlement of Talmon assaulted and savagely beat the Palestinians.
Settlers, mostly armed, regularly attack Palestinian villages and farms and set fire to their mosques, olive groves and other properties in the West Bank under the so-called "price tag" policy.
All Israeli settlements are illegal under international law. Tel Aviv has defied calls to stop the expansion of settlements in the occupied Palestinian territories.
PCHR report: Nine Palestinians killed during last week alone
GAZA (PNIC):-The Palestinian Center for Human Rights (PCHR) based in Gaza in its weekly report said Israeli violations of international law and international humanitarian law in the oPt continued during the reporting period (27 September – 03 October 2018). (more…)
Report: Wide cooperation between Israeli judicial system and Banks in favor of settlements
By: Madeeha Araj
The National Bureau for Defending the Land and Resisting Settlement said that the Israeli army and its affiliated organs are not only involved in the crime of forging the Palestinian documents which prove their ownership of the land, but also confiscate and (more…)
PCBS: 5% of Palestinian population are elderly
BETHLEHEM (PNIC):-On the occasion of the World Elderly day, the Palestinian Central Bureau of Statistics (PCBS) released a report, on Sunday, that the Palestinian society is considered a young society, where the percentage of young people is high and the percentage of the elderly is relatively low. (more…)