Jewish settlers perform "silent prayers" at Al-Aqsa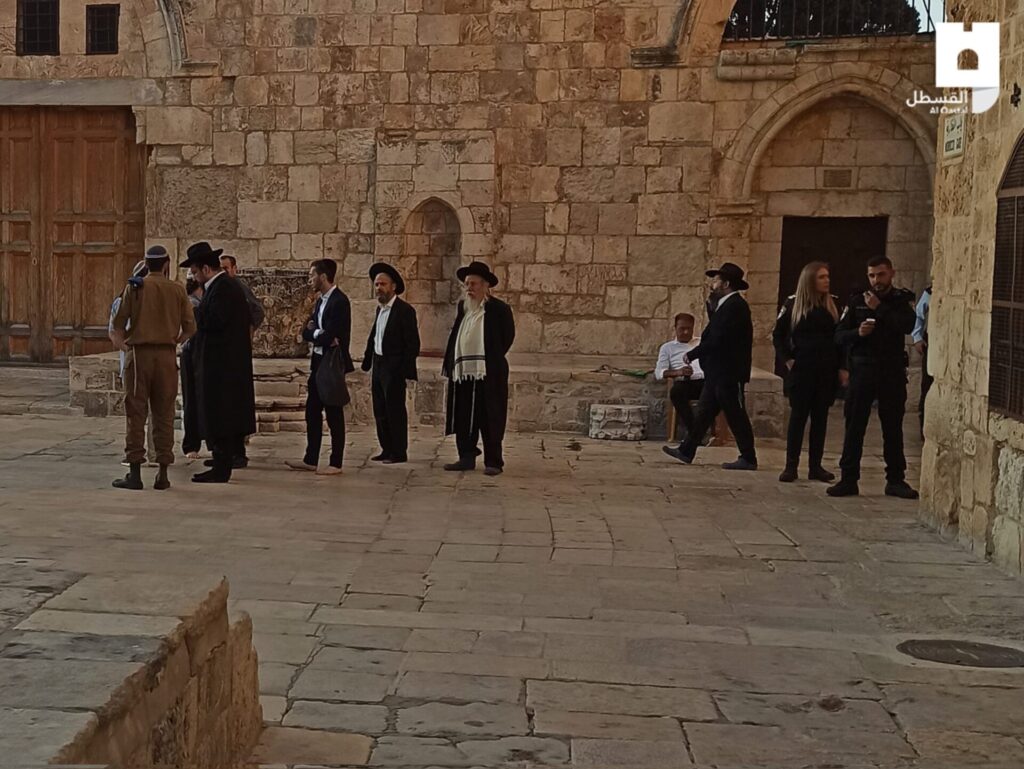 OCCUPIED JERUSALEM, A group of Jewish settlers performed "silent prayers" at Al-Aqsa Mosque on Thursday morning under heavy police protection.
One of Al-Aqsa's guards affirmed that scores of Jewish settlers stormed the Al-Aqsa Mosque, via Al-Magharba Gate, and carried out provocative tours.
Earlier Wednesday, an Israeli court ruled that the silent prayer of Jews at Al-Aqsa Mosque complex in Occupied Jerusalem was not a "criminal act."
This came in response to an appeal filed by Rabbi Aryeh Lippo against a police ban on his visits to the Islamic site.
The unprecedented decision was strongly condemned by Europeans for al-Quds Foundation.
The Foundation considered the decision as a new escalating step by the Israeli occupation to impose status quo in al-Aqsa.
The decision will only add further tension in the region, the Foundation added.
Hamas Movement's spokesman, Hazem Qassem, also slammed the move as "a flagrant aggression against al-Aqsa Mosque."
The ruling, he added, also amounted to "a step on the path of the temporal and spatial division of the Mosque in blatant violation to all human laws and norms."
In recent years the number of Jewish worshippers quietly praying on the site has increased, despite the long-standing agreement banning the practice between Jordanian authorities overseeing the compound and the Israeli government.
For its part, Jordan, which has managed the Jerusalem Islamic Waqf – or endowment – since 1948, condemned the decision, stressing the Waqf held the sole legal authority to administer the affairs of al-Aqsa.
Meanwhile, the Palestinian foreign ministry said the "unprecedented decision… constitutes a flagrant aggression against the blessed al-Aqsa Mosque".