JMBM calls for intensifying Palestinian presence in al-Aqsa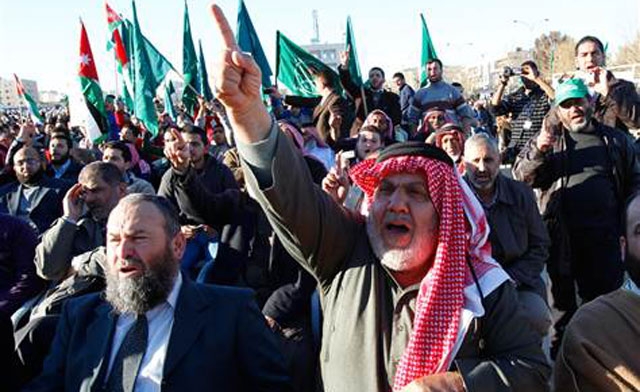 AMMAN, (PNIC)
The Jordanian Muslim Brotherhood Movement (JMBM) called on the Palestinian people in a statement issued Thursday to intensify their presence in al-Aqsa Mosque.
The statement also called for escalating the ongoing Jerusalem Intifada in response to Israeli attacks on al-Aqsa Mosque.
The statement pointed to the two recent Israeli bills to prevent Adhan in occupied Jerusalem and to legalize settlement construction on Private Palestinian lands.
The Movement called on the Jordanian government to bear its responsibilities towards al-Aqsa Mosque, to work on preventing Israeli repressive bills, and to close the Israeli embassy in Amman.
It also called on the Arab and Islamic peoples to confront Israel's unprecedented campaign against the occupied holy city.
PCHR report: Nine Palestinians killed during last week alone
GAZA (PNIC):-The Palestinian Center for Human Rights (PCHR) based in Gaza in its weekly report said Israeli violations of international law and international humanitarian law in the oPt continued during the reporting period (27 September – 03 October 2018). (more…)
Report: Wide cooperation between Israeli judicial system and Banks in favor of settlements
By: Madeeha Araj
The National Bureau for Defending the Land and Resisting Settlement said that the Israeli army and its affiliated organs are not only involved in the crime of forging the Palestinian documents which prove their ownership of the land, but also confiscate and (more…)
PCBS: 5% of Palestinian population are elderly
BETHLEHEM (PNIC):-On the occasion of the World Elderly day, the Palestinian Central Bureau of Statistics (PCBS) released a report, on Sunday, that the Palestinian society is considered a young society, where the percentage of young people is high and the percentage of the elderly is relatively low. (more…)