Lebanon: International Conference to support Palestinians' 'Intifada', representatives of 60 countries participated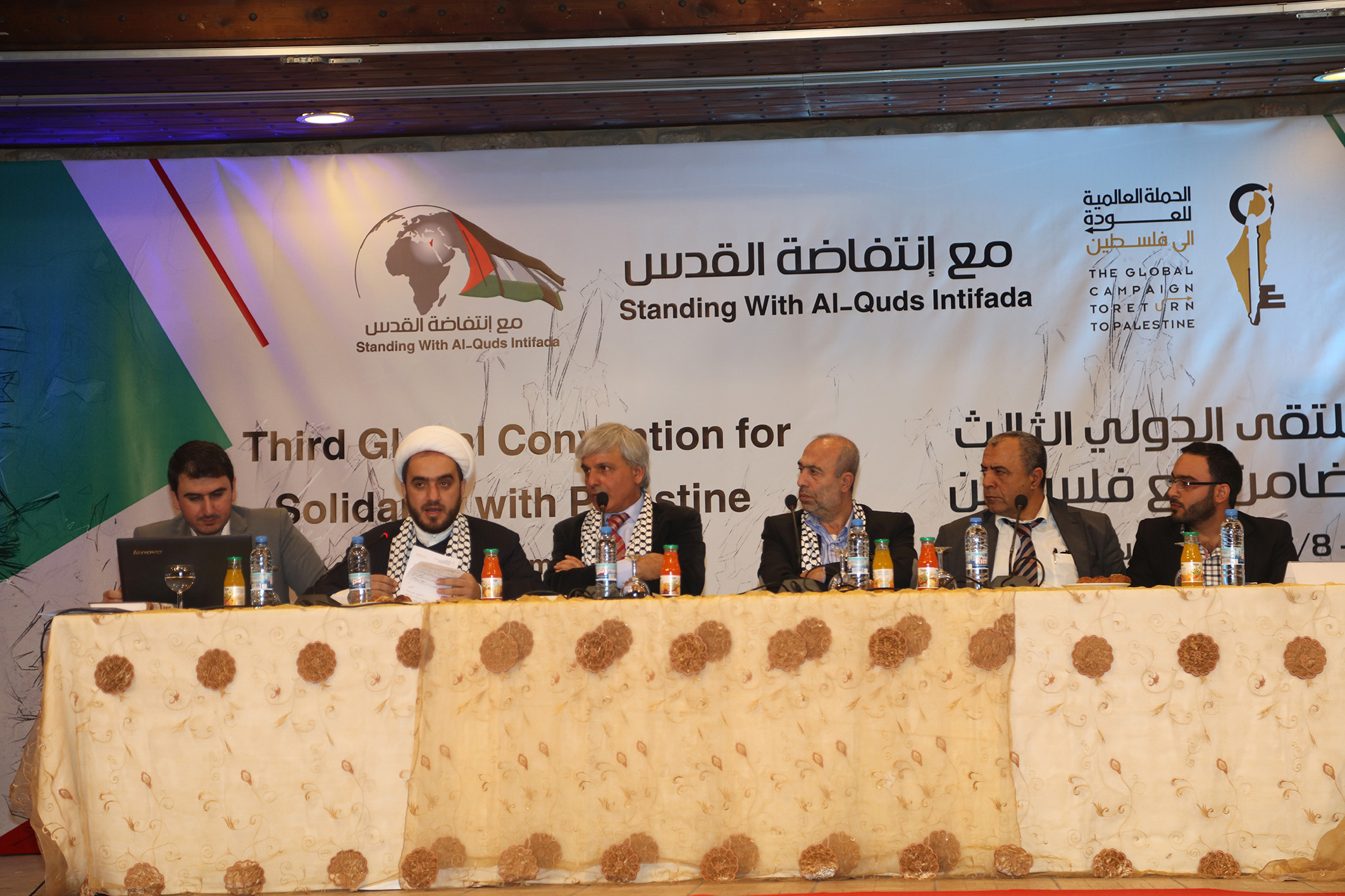 (PNIC) – An international conference 'Intifada Al-Quds' was held in Lebanon's capital city Beirut, known as the heart of Palestinians' independence Movement and Islamic resistance, to show solidarity with Palestinians' independence and fully support to struggle and the
recent Third Intifada on December 8,9 & 10.
The conference was attended by representatives of 60 countries and they included Human Rights activists, volunteers, renowned lawyers, NGOs working for Palestine's independence and more than 200 people from different walks of life, majority of whom were from occupied Palestine, Al-Quds City and Gaza, were also present in the conference.
Head of 'Global Campaign to return to Palestine'(GCRP) Sheikh Yousuf Abbas chaired the conference. Senior leadership of Islamic resistance movements including Deputy Secretary General of Hezbollah Lebanon Shekih Naeem Qasim, Vice-President of Jihad- e- Islami of Palestine Ziyad-Al-Nikhala, Hamas' representative in Lebanon Ali Al-Barka also attended the conference whereas former Prime Minister of Palestine and Hamas' leader Ismail Hania, famous leader of Christians present in Al-Quds Ataullah Hana and the father of 16 year old martyred girl Ashraqat Qantani , Mr Taha Al-Qattani addressed the conference through video link.
The conference was the 3rd yearly conference organized by 'Global Campaign to Return to Palestine' every year in November or December.
The representatives of 60 countries who attended the conference included former member of National Assembly and Naib-Ameer of Jamat e Islami Karachi Muzaffar Ahmed Hashmi and Palestine Foundation Pakistan's central Secretary General Sabir Abo Maryam from Pakistan.
The participants stressed upon continuing the support of Palestine at international level and to speed up the struggle. It was also emphasized that Palestine is the homeland of Palestinians and it is their foremost right to return to their homeland. Media committee, Human Rights volunteers committee, lawyers committee and a popular activists committee comprising of members playing active role all over the world, were also established during the conference.
A large number of attendees were also from occupied Palestine including journalists, volunteers and students. They included Diyala Jawan, Ali Batha, Tahir Saeej, Salah Al Khuwaja, Khalid Faqih, Nasreen Silmi, Ehad Khuwaja, Abdul Raheem Abu Hadid, Sohail Awda, Umar Ussaf, Amal Wahdan, Hawil Daraz, Deema Sikandrani, Abdul Kareem Sharqi, Nareman Tamemi, Ahed Tamemi and Hassam Salah whereas Muhammad Shalhoob, Ali Abdullah, Dr. Haider Deqmaq, Dr. Abdul Malik Sakaria, Jad Al Haj, Amir Abdullah, Muhammad Al-Abid, Maryam Muhammad, Gussan Abdullah, Muhammad Saif, Mustafa Abu Ataya, Nabeel Halaq came from Lebanon. Participants who came from Syria included Palestinian leaders residing in Syria and some local Syrian leaders including Dr. Khalid Abdul Majeed, Dr. Sabir Falhoot, Nadal Ammar, Balala Saad, Amira Muhammad, Safeer Jarad, Anas Hamada, Dr. Adeeb Ysir Jee, Ubaisa Albo, Dr. Mehmood Ukkam, Ali Ukkam, Hassan Ukkam, Abid Al Hama, Ali Abbas and Murtaza Abbas.
Those came from Tunis to attend the conference included renowned politicians, members of parliament, journalists and Ahmad Kahlawi, Muhammad Bin Yahya, Sohail Adudi, Abdul Kareem, Brahim Mubarka and others.
Famous scholar Shareef Mubalu from Senegal, Abu Bakar Dawood from Cameroon, Ali HAshim Ismail from Sudan, Muhammad Hassan Salah and Ahmed Bilal from Egypt, Awani Lutfi from Algeria, Denesia Beli, Jacob Chohan and Tahir Labadi from France, Umari Hassan from Kenya, Ali Umari from Tanzania, Muhammad Saleem from Mauritania, Qaseem Muhammad from Nigeria, Ibrahim Wada, Ziyad Patel from South Africa, Palestine from Ethiopia, Laura Crosalus and Maria Angelin from Spain, Azam Muhammad, Maik Napir, Joshua Brown and Ussam Basalat from Scotland, Nazim Suleman, Tariq Mobavich from Germany, Maulo Pili, Anamaria and Salwanu Faleesi from Italy, Salua Usman from Belgium, Abbas Mubarak, Syed Rizvi and Kevin Adendon from London, Muhammad Tahir, Musa Kazim from Turkey, Ahmed Haj Ali, Artam Gorshkaun, Datali Al Naud from Russia, Usama Abdul Haleem, Sabri Hajar, Deemasar Soor from Sweden, Saif Al Khateeb from Cyprus, Magnus Atseet, Nadal Hammad, Shaad Alzaghari from Norway, Huda City two, Sounjuan from Netherland, Professor Peesas, Meechalees, Feesa, Deemtera, Meeranthali from Younan, Razan Zuateer Hassan Al Ja Ja Salim Al Soees from Jordan, Ali Qazaq from Australia, Mujtahid Hashim, Muhammad Aziz, Muhammad Haikal, Khaleel Hassanuddin from Indonesia, Professor Hussain Rawidaran, Syed Abu al Qasim Raheemian, Masood Moosvi from Iran, Syed Zulfiqar Ali, Deera Choty Haema from Thailand, Fazil Shaltagh, aqil Ali, Anas Ali from Iraq, Johan Arif Ismail from Malaysia, Feeroz Muthi Borwala, Tasleem Rahmani from India, Dr. Pal Lardi, Jenifer Mognum, Gleen Ford, Jain Stalwater, Nardan Mohsin from the US, Charlotte Kates, Eve Barlet from Canada, Sohail Asad from Argentina, Nicola Hadda, Carla from Chile, Jauz Nasir, Khalid Al hindi, Adil Zubair from Venezuel, Markelu Bazeetu, Andry Datra and Abdur Rahman from Brazil and Abdullah Moouswi from Kuwait participated in the conference.
At the end of three days conference the participants were taken to the memorials of Islamic opposition including Maleeta, Qila, Al Shakeef and Palestinian border MaroonAl Ras.