Lieberman to Arab MK: Get out of the Knesset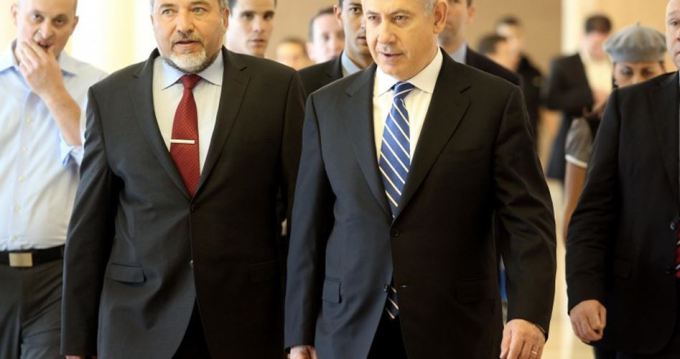 OCCUPIED JERUSALEM, (PNIC)
Israeli Army Minister Avigdor Lieberman (Yisrael Beytenu) blasted Israeli Arab Joint List head Ayman Odeh over the latter's participation in a memorial ceremony held in Ramallah for late Palestinian President Yasser Arafat's death.
Yediot Ahronot Hebrew newspaper quoted Lieberman as saying in his Facebook official page, "He wouldn't come to the funeral of Peres in Jerusalem, but today he goes and eulogizes Arafat in Ramallah."
"We will continue to work to make sure that he is not a Knesset Member in Jerusalem, and at most will be a city council member in Ramallah," he wrote.
Odeh defended his decision to attend the ceremony saying that it is a peace and hope message.
Lieberman could not just stop incitement against Arab community, he said.
Israeli analysts said that that Lieberman's threat appears to be a public relations move as he has no legal means for actually carrying it out.
Lieberman has been leading a boycott of the Joint List since the Peres funeral last month, which the entire Arab party members declined to attend due to the criminal history that Peres represented.
PCHR report: Nine Palestinians killed during last week alone
GAZA (PNIC):-The Palestinian Center for Human Rights (PCHR) based in Gaza in its weekly report said Israeli violations of international law and international humanitarian law in the oPt continued during the reporting period (27 September – 03 October 2018). (more…)
Report: Wide cooperation between Israeli judicial system and Banks in favor of settlements
By: Madeeha Araj
The National Bureau for Defending the Land and Resisting Settlement said that the Israeli army and its affiliated organs are not only involved in the crime of forging the Palestinian documents which prove their ownership of the land, but also confiscate and (more…)
PCBS: 5% of Palestinian population are elderly
BETHLEHEM (PNIC):-On the occasion of the World Elderly day, the Palestinian Central Bureau of Statistics (PCBS) released a report, on Sunday, that the Palestinian society is considered a young society, where the percentage of young people is high and the percentage of the elderly is relatively low. (more…)