March 30, the world's free people move on Global March to Jerusalem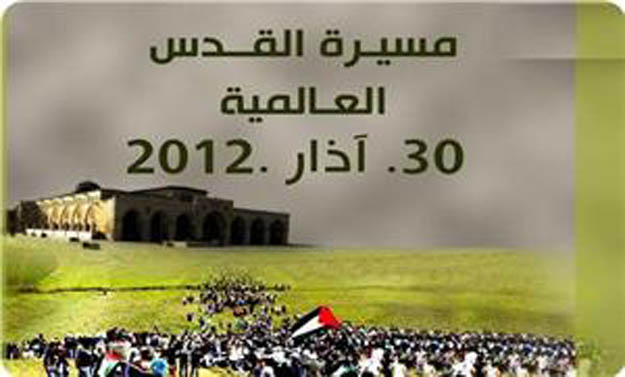 AMMAN,  The preparatory committee for the Global March to Jerusalem (GMJ) finished the technical and media preparations for the launch of the march next Friday. Coordinator of the CMJ Rabhi Halloum said on Sunday that about two million people from 80 countries will participate in this march to be organized simultaneously in four countries adjacent to occupied Palestine.
Halloum affirmed that international delegations started to leave their cities and flock into Palestine's neighboring countries and areas to participate in this global mega march on the Palestinian land day, which is marked on March 30.
He noted that international dignitaries in addition to anti-Israel Jewish rabbis will be among the participants in this march.
The coordinator stated that the march is a peaceful event that is not subject to any political or partisan agendas and its participants are not allowed to distract the march from its noble goals or exploit it for specific agendas.
Source : Palestine Info Centre