Nakba anniversary: Protestors say Israel poses threat to humanity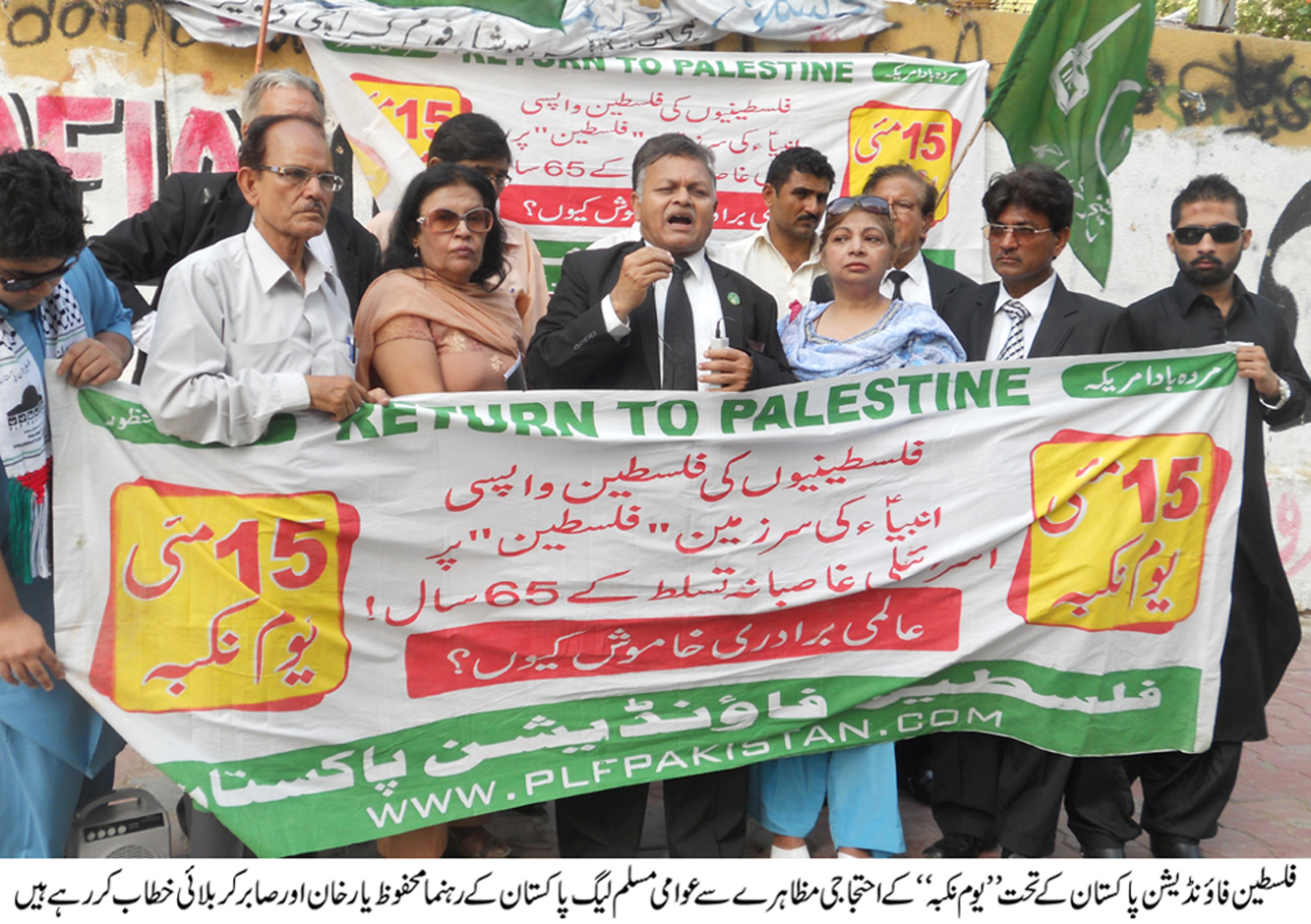 The demonstrators vowed on the anniversary of Nakba Day on Tuesday that Pakistani nation would continue to fight for the oppressed Palestinians including their legitimate right to return their homeland.
Hundreds of protestors attended the demonstration that was staged outside Karachi Press Club. Awami Muslim League and Palestine Foundation of Pakistan organized the demo in which people carried banners, placards and flags. They were raising slogans against the Zionist regime of Israel and the United States. They also burnt the flags of the U.S., U.K., and Israel.
The PLF's office bearers & Lawyers Mehfooz Yar Khan Advocate and Sabir Karbalai, Mahboob Aftab Khan, S.M.Bukhari, Abida Khan, Rana Parveen, Kanwer Amir and Asadullah Khan Advocate spoke to the protestors.
They reiterated their viewpoint that it is right of all Palestinian refugees to return their homeland Palestine. They said that all hurdles in the way of immediate return of Palestinians to Palestine (now occupied under the name of Israel) should be removed forthwith.
They said that Nakba or Catastrophe was imposed on the Palestinians by the Zionist terrorists who massacred many Arab Palestinians and expelled those survived their witch hunt. They said that now more than 5 million Palestinians had to live abroad because the Zionist regime of Israel has refused to recognize the inalienable right of these sons of soil to return their homeland.
Speaking to the protestors, the PLF officials further said that the international community has failed to sort out the Palestine issue because the 

U.SA

. and EU are staunch allies of the Zionist regime. They said that lip service and empty statements could never help Palestinians attain their rights. They urged the UN and other international bodies to play their role.