"Nakba Day rally says Israel poses threat to the world peace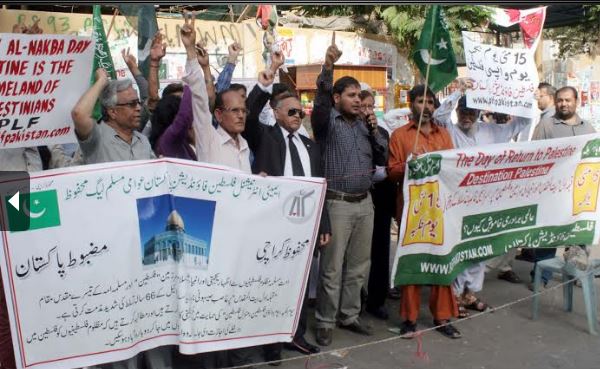 The human rights activists, civil society and political workers joined a largely-attended rally staged by the Palestine Foundation (PLF) Pakistan outside of Karachi Press Club on Wednesday to mark the anniversary of Nakba Day 1948.
The demonstrators belonging to the PLF, Amity International, Awami Muslim League and other political parties were carrying banners and placards inscribed with the anti-Zionists, anti-Israel and anti-imperialist slogans. Mehfooz Yar Khan, Professor Nargis, Hina Soomro, Major (Rtd.) Amir, Ishrat Ghazali, Irshad Ahmed and Sabir Karbalai spoke.
Amid the slogans of Death to Zionist Israel and down with U.S.A., the speakers excoriated the Zionist regime of Israel, United States and United Nations for denying the oppressed Palestinians legitimate inalienable rights. They criticized the Arab League and the OIC for their criminal silence and inaction against the Zionist attacks on Palestinians.
They reiterated that the Zionist terrorists of Hagana, Irgun, Stern, etc., grabbed the sacred land of Palestinians and imposed an illegitimate state of Israel on them by massacring them and forced them to leave their homeland in May 1948 and that day was called Nakba Day in the history of Palestine.
They demanded the UN, EU, Arab League and the OIC to take practical steps to ensure that a sovereign and independent state of Palestine become reality and the sacred al-Quds should be its capital. They urged them to wipe illegitimate state of Israel by revoking their membership from the United Nation in order to end the 66 years long injustice done to Palestinians.
They reiterated their demand that all Palestinians should be allowed to return to their homeland and settle into those houses and localities from where they were forced to leave by the Zionist terrorists.
PAKISTANI POLITICIANS CONDEMN ISRAEL AS FAKE AND ILLEGITIMATE STATE
KARACHI (PNIC):- Speakers at al-Quds seminar in Islamabad have condemned the Zionist regime of Israel over its crimes against humanity and some declared that Israel is nothing but an illegitimate and fake nation-state. (more…)
Hamas Leader thanks Pakistani nation over support to Palestine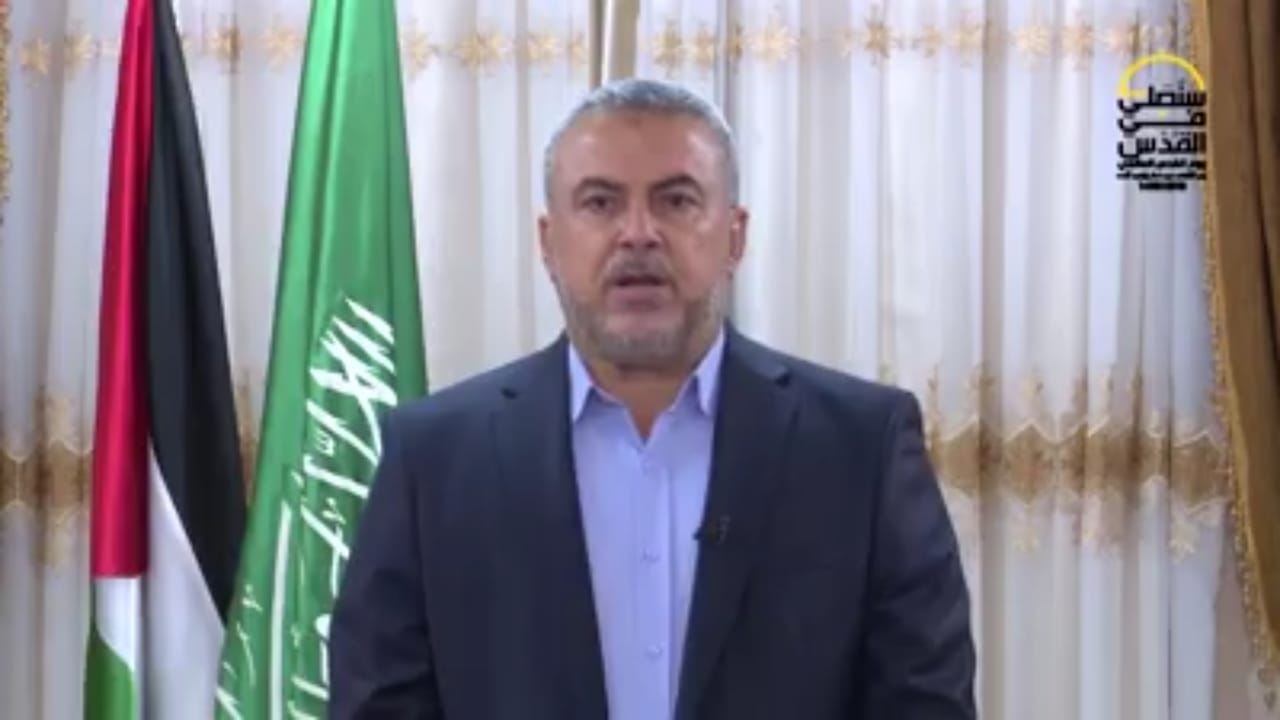 GAZA (PNIC):-Hamas deputy chief Ismail Ramzan thanked Azadi-e-Quds Tehreek and Palestine Foundation Pakistan over their support to the Palestine cause and huge participation of Pakistanis in the Intrenational Quds Day rallies across Pakistan.
PLF's Two Day Pictorial Exhibition held on Quds Day
KARACHI (PNC):-A 2-day pictorial exhibition was held on main M.A. Jinnah Road Karachi on Quds Day on Friday where thousands of people visited and expressed solidarity with Palestinians.
The Quds Day Return Exhibition was organized by Palestine Foundation Pakistan (PLF).