Notion of Palestinian state over after Trump win: Israeli minister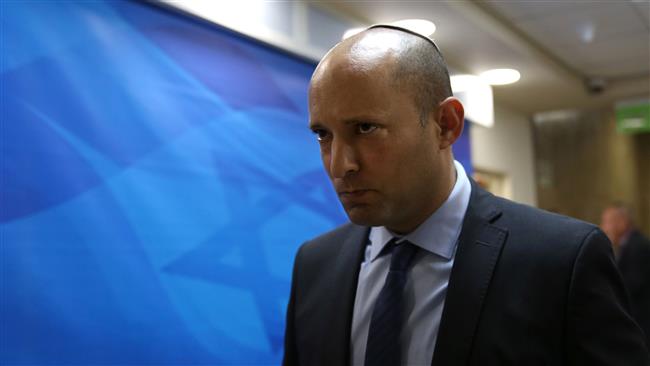 Israel (PNIC) Hard-line Israeli politician Naftali Bennett has said that the idea of a Palestinian state is over after Donald Trump's election as the 45th president of the United States.
The education minister, who heads the hard-line Jewish Home party, said on Wednesday, "Trump's victory is an opportunity for Israel to immediately retract the notion of a Palestinian state."
Bennett, known for his routine expressions of extremist viewpoints, also said, "This is the position of the president-elect … The era of a Palestinian state is over."
Bennett has a history of making controversial remarks even by the standards of the hawkish Israeli regime itself.
In early October, Bennett said Israelis must "give their lives" to ensure the annexation of the occupied West Bank.
"We have to mark the dream, and the dream is that Judea and Samaria will be part" of Israel, Bennett said on October 6, using an Israeli name for the occupied territory.
Meanwhile, reacting to Trump's win, Israeli Justice Minister Ayelet Shaked, also with the Jewish Home, called on Trump to follow through on his promise to move the US embassy from Tel Aviv to Jerusalem al-Quds. Trump has also pledged to recognize Jerusalem al-Quds as Israel's capital.
Premier Netanyahu himself caused controversy when he ruled out a Palestinian state ahead of a 2015 general election, but later backtracked.
PCHR report: Nine Palestinians killed during last week alone
GAZA (PNIC):-The Palestinian Center for Human Rights (PCHR) based in Gaza in its weekly report said Israeli violations of international law and international humanitarian law in the oPt continued during the reporting period (27 September – 03 October 2018). (more…)
Report: Wide cooperation between Israeli judicial system and Banks in favor of settlements
By: Madeeha Araj
The National Bureau for Defending the Land and Resisting Settlement said that the Israeli army and its affiliated organs are not only involved in the crime of forging the Palestinian documents which prove their ownership of the land, but also confiscate and (more…)
PCBS: 5% of Palestinian population are elderly
BETHLEHEM (PNIC):-On the occasion of the World Elderly day, the Palestinian Central Bureau of Statistics (PCBS) released a report, on Sunday, that the Palestinian society is considered a young society, where the percentage of young people is high and the percentage of the elderly is relatively low. (more…)