Palestine Foundation announces boycott campaign against US & Zionist Israeli products in Pakistan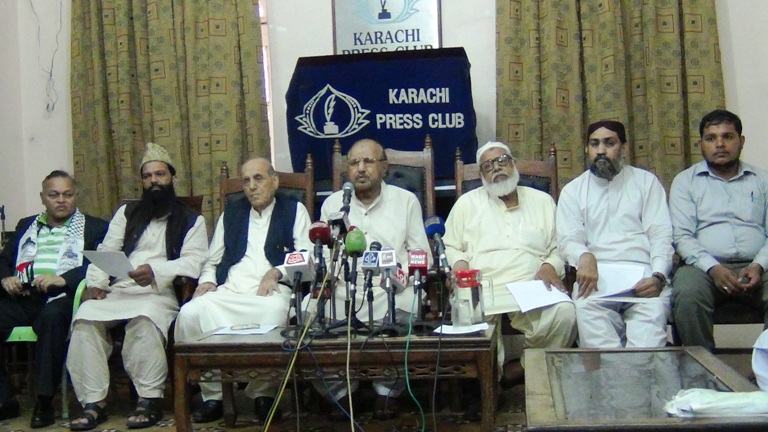 Palestine Foundation (PLF) of Pakistan has demanded of the government to table resolution in the United Nations seeking the expulsion of Zionist state of Israel that didn't qualify for the UN membership.   
Officials of the Palestine Foundation made this demand at a press conference here on Sunday.
They asked the PMLN government to send an official international delegation to Gaza to help defenseless people of Gaza and they offered all out cooperation for this. They demanded that an al-Quds Committee should be formed in the Parliament to oversee the official performance for the liberation of Palestine.
Allama Abbas Kumaili, Mkr Nawaz Marwat, Muzaffar Hashmi, Allama Sadiq  Raza Taqvi, Pirzada Azhar Hamedani, Allama Qazi Ahmed Noorani, Mehfooz Yar Khan and Sabir Karbalai spoke at the press conference.
The PLF demanded that Pakistan government should begin aid campaign for defenseless Palestinians of Gaza.
The PLF officials appealed to people and the governments to boycott illegitimate Zionist state of Israel on all levels and all sectors. They said that people and the governments should begin commercial boycott of Israel, and the U.S.-led West.
They said that since July 8 to date, over 1760 Palestinians mostly children, women and elderly persons have been martyred due to Israeli airstrikes and ground incursions. They lamented that neither the United Nations and the Arab League nor OIC and the human right organizations had come forward to rid Gaza of the Israeli aggression. They condemned Zionist regime, these organizations and the pro-Israel Arab and the Western governments.
They said that empty statements and hollow condemnations are not enough but something substantial should be done to rid Palestinians of the Israeli occupation and aggression. They said that innocent children were massacred but nobody has so far talked of punitive action against Israel. They condemned criminal silence of the world and their inaction against the Zionist regime. They said that Zionist regime is follower of racist ideology and it was acting like a rabid dog and ferocious wolf on a state level. They urged all people of the world to play their role to stop genocide against Palestinians.