Palestine Foundation of Pakistan sent condolences to Khaled Meshaal on his mother's demise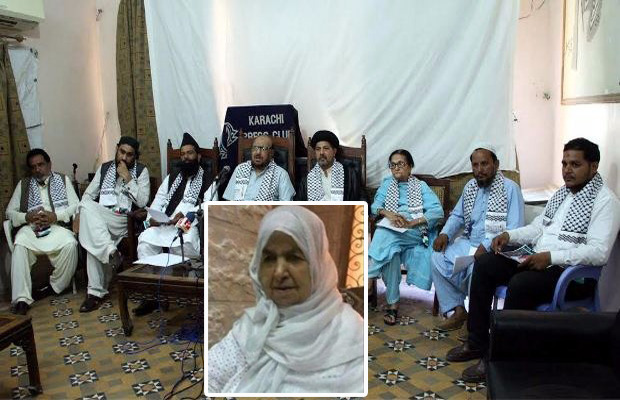 KARACHI – (PNIC) – Palestine Foundation Pakistan (PLF) sent condolences to Head of the political bureau of Palestinian Islamic Resistance movement HAMAS, Khaled Meshaal on demise of his mother. His mother were passed away in Jordan few days ago.
Leaders of Palestine Foundation Pakistan (PLF) including former MP and Leader of Jamaat-e-Islami Muzaffar Ahmed Hashmi (JIP), Allama Qazi Ahmed Noorani Sidiqi of Jamiat Ulema Pakistan (JUP), Molana Baqir Abbas Zaidi of Majlis Wehdat Muslameen Pakistan (MWM), from Pakistan Muslim League Nawaz (PMLN) Pirzada Azher Ali Shah Hamdani, Israr Abbasi of Pakistan Tehreek-e-Insaaf (PTI), Dr Aliya Imam (Former Advisor to Government of Pakistan), MP of Sindh Mahfouz Yar Khan Advocate of Muttahida Qoumi Movement Pakistan (MQM), Qaiser Iqbal Qadri of Pakistan Awami Tehreek (PAT), Matloob Awan Qadri of All Pakistan Sunni Tehreek (APST), Tariq Shadab of Amity International and secretary General of Palestine Foundation Pakistan Abo Maryam payed condolences to Khaled Meshaal and prayed for highness of his mother. They prayed,May Allah rest his soul and peace to Khaled Meshaal's mother.