Palestine Foundation Pakistan announce a 10 day campaign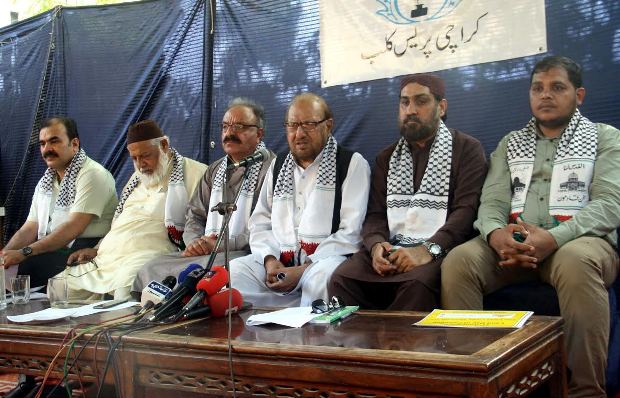 Karachi (PNIC) Palestine Foundation Pakistan (PLF-P) commemorating 'Palestine Land Day' have announced a campaign across Pakistan. In the event PLF-P is set to plant Roses around Scout Headquarter Karachi where a congregation prayer will be held for the Land of Palestine against the Zionist regime.
On March 30, a conference will be held in solidarity with Palestine at Arts Council Karachi in which politico-regilious leader to include humanitarian organizations will mark the day with their presence.
This news came forth when PLF-P Central Leaders Committee members held a press conference at Press Club Karachi. Dignitaries present at the occasion namely; former member of National Assembly and leader Jamaat-e-Islami Muzzaffar Hashmi, Pakistan muslim league Nawaz leaader Azhar Ali Hamdani, Awami National Party leader Younus Bunair, Pakistan Tehreek-e-Insaaf leader Israr Abbassi, Nizam-e-Mustafa Party leader Al-Haj Muhammad Rahi, Amnesty International Pakistan President Mafooz Yar Khan Advocate and PLF-P central secretary general Sabir Abu Maryam.
The members emphasized on the fact that the resolution put forth by our leader Quaid-e-Azam was not only for Pakistan but for Palestine as well. It was meant to safeguard not only our country but Palestine. The Palestinian issues remains core for not only the muslim world but for humanity. The urged people to come forth and register their reservations against the onslaught by the Zionist regime on Palestinian soil.
Members protested the fact that US pressure has took to Arab Nations and their inclinage towards Israel is treason towards their own brethren and their 70 year old struggle for the land of Palestine.
They alleged that the atrocities in Kashmir at the hands of Indian army and on-going violence in Palestine under Zionist regime are two sides of a coin and should be dealt with a stern hand, should we unite for their cause. The above two illicit regimes are the ones who cannot swallow Pakistan on the path of prosperity and their interference in our country is evident.