Palestine Foundation Pakistan kicks off nationwide Solidarity campaign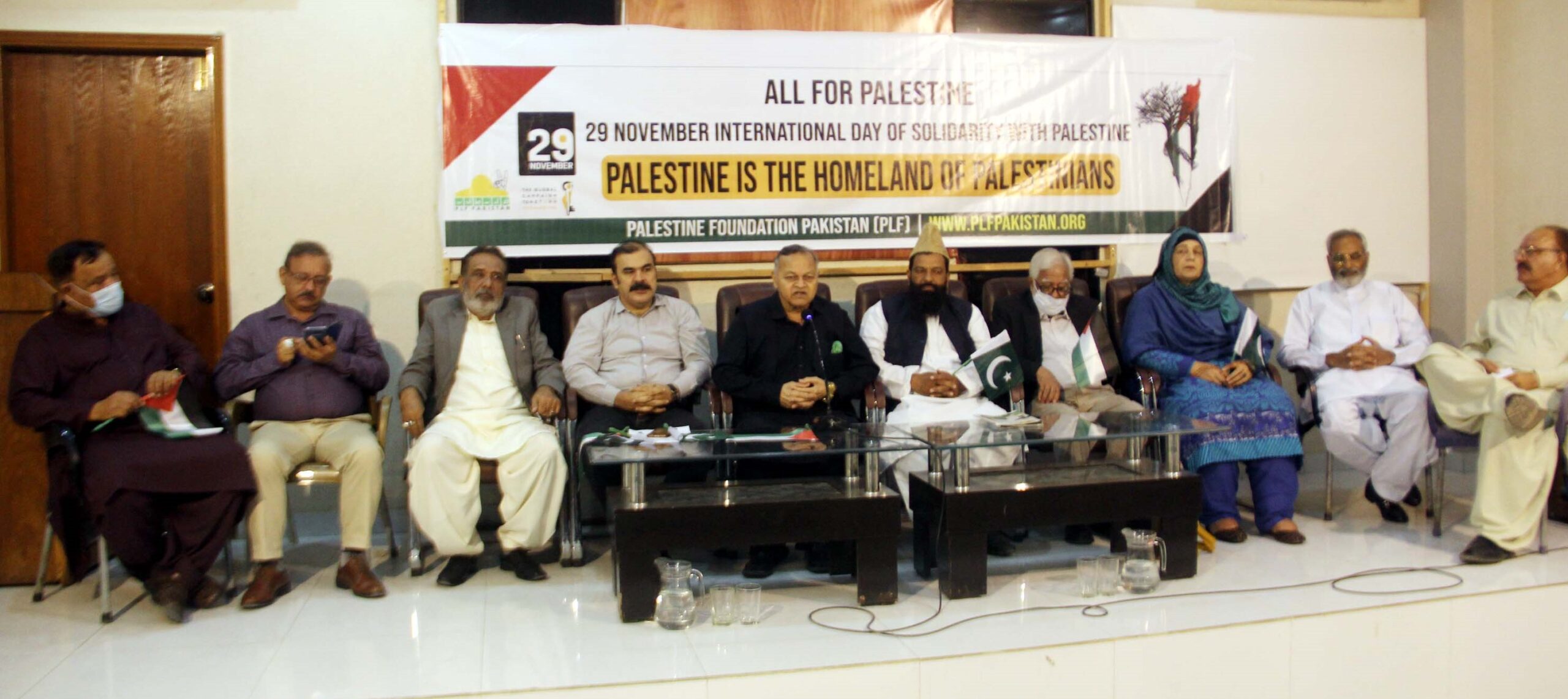 Karachi :- The main patrons of the Palestine Foundation Pakistan (PLF) have strongly condemns the British government for declaring Palestinian Resistance movement Hamas a terrorist organization. They  expressed these views while addressing a press conference at Karachi Press Club on Monday.
Deputy Amir of Jamaat-e-Islami Muslim Pervez, former members of Sindh Assembly Mahfooz Yaar Khan, Major (retd) Qamar Abbas, President of Majlis-e-Wahdat Muslimeen Sindh Allama Baqir Zaidi, Israr Abbasi of Pakistan Tehreek-e-Insaf & Iram Butt, younis Boneri of Awami National Party, Syed Arshad Naqvi of Pakistan People Party, Faisal Sheikh, Azhar Ali Hamdani of Pakistan Muslim League-Nawaz, Allama Qazi Ahmad Noorani of Jamiat Ulema-e-Pakistan, Matloob Awan Qadri from All Pakistan Sunni Tehreek, Karamat Ali, Chairman of Piler, Leading social leader Bashir Saduzai and Secretary General of Palestine Foundation Pakistan Dr. Sabir Abu Maryam addressed the gathering.
The speakers said that in fact Israel's patron governments, Britain and the United States, are the biggest terrorists. They said that Hamas is the heartbeat of the entire Islamic world. The people of Pakistan support Hamas. The leaders called on the government to recognize Hamas at the official level. They added that the issue of Palestine is facing the most sensitive period in history, on the one hand there are Arab states which are establishing friendly relations with the fake Zionist state of Israel established on Palestine and on the other hand there are oppressed Palestinians who They have been engaged in the struggle for independence for the last one century.
They said that Zionists as well as British colonialists and American imperialism are equally involved in the plan of evicting Palestinians from their homeland and Zionist occupation of Palestine. The United States and the United Kingdom are equal partners in barbarism.
Speakers said that November 29 is celebrated all over the world as a day of solidarity with the Palestinians. They have decided to run a Palestine solidarity campaign. Under the campaign, conferences and demonstrations will be held in Karachi, Lahore, Quetta and Islamabad while the grand bicycle rally in Karachi will start from Shahra-e-Faisal on Sunday 28th November and will end at Karachi Press Club.
A Palestine Solidarity Walk will be organized at Karachi University on Monday 29th in collaboration with ISO.