Palestine Foundation Pakistan sets off "O' Quds! We are coming" Campaign nationwide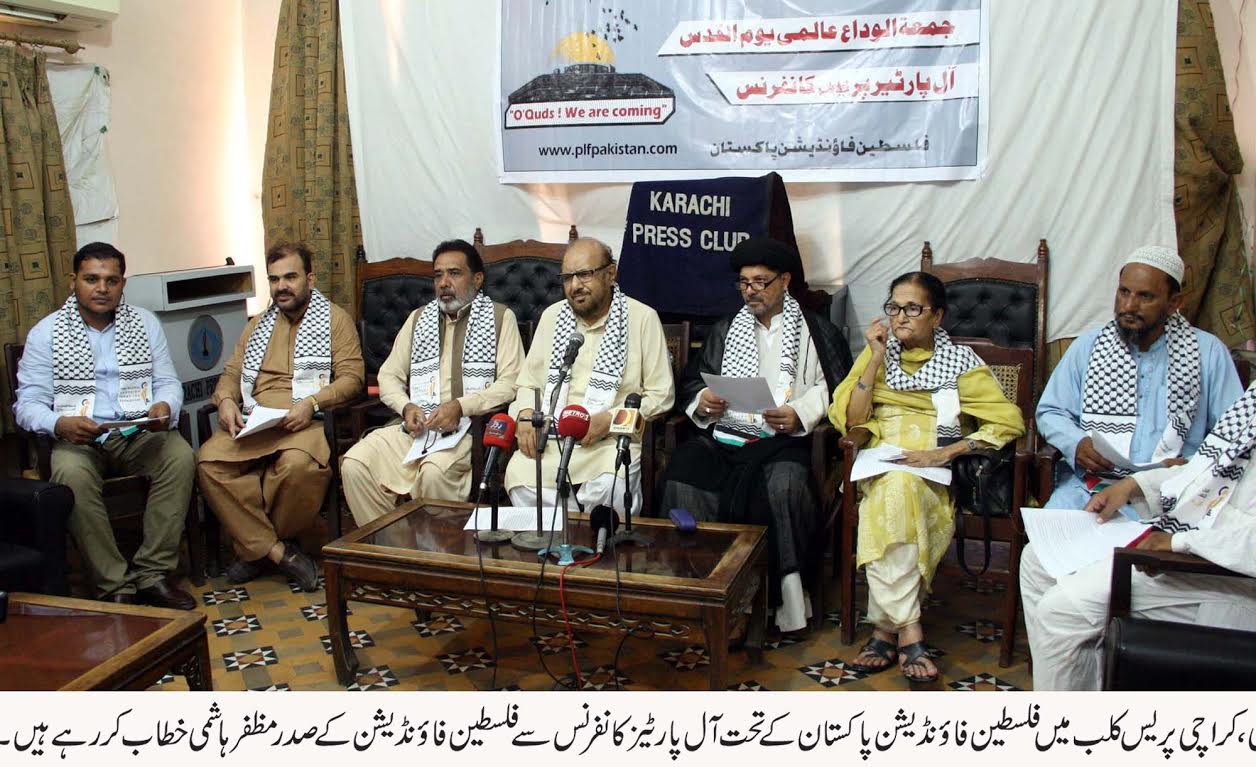 'Al-Quds Day' to be commemorated officially at Govt level, every last Friday of Ramazan
KARACHI: A press conference was held favoring the oppressed nation of Palestine marking Al-Qudson Wednesday at Press club Karachi.
Palestine Foundation Pakistan (PLF-P) along with varied political and religious organizations kicks off a nationwide campaign "O' Quds! We are coming" in a press conference at Karachi Press Club. The quorum demanded Al-Quds Day to be venerated in Pakistan at government level marking it a state holiday on last friday of Ramadan Al-Karim.
The Press conference was attended by renowned members of society to include; Secretary General of Palestine Foundation Pakistan (PLF-P) Sabir Abo Maryam, Jamat-e-Islami (JI) Karachi Deputy Chief and former MNA Muzaffar Hashmi, Jamiat Ulema Pakistan (JUP) Qazi Ahmed Noorani, Bishop Sadiq Daniel from Church of Pakistan, Pakistan Muslim League Nawaz (PML-N) Pirzada Azhar Ali Shah Hamdani, Majlis Wehdat Muslameen Pakistan (MWM) Molana Baqir Zaidi, Former Advisor of Government of Pakistan Dr Alia Imam, Pakistan Tehreek-e-Insaf (PTI) Israr Abbasi, Pakistan Awami Tehreek (PAT)Qaiser Iqbal Qadri, All Pakistan Sunni Tahreek (APST) Matloob Awan Qadri, Tanzeem-ul-Ikhwan Pakistan (TIP) Molana Laeq Ahmed, Threek Muhiban-e-Sadaat Molana Asif Mustafai, Zahida Bhand and many others.
PLF-P announced a full-fledged campaign organizing seminars and conferences, across all provinces, enlighten the masses against Israeli oppression over Palestine and the struggle required to salvage Al-Quds.
PLF-P announced a Al-Quds Solidarity protest on 29 June in front of Karachi Press Club and a grand pictorial exhibition at M.A.Jinnah Road on 30 June and July 1.